1961
November: The University of Pittsburgh, under Chancellor Edward H. Litchfield, creates the new position of Vice Chancellor for Regional Campuses and sets up an Office of Regional Programs to establish two-year junior colleges in areas of Western Pennsylvania outside Pittsburgh.
1962
March 7: Raymond Zoerkler, on behalf of the Bradford Area Chamber of Commerce, sends a letter of inquiry to Pitt about the possibility of locating a junior college in Bradford.
April: Pitt begins a feasibility survey in Bradford.
October 16: Chancellor Litchfield publicly announces that the university has selected Bradford, Titusville, and Greensburg as sites for new junior colleges, to be known as "regional campuses." These schools will allow local students to complete two years of undergraduate instruction before transferring to Pittsburgh to complete their Pitt baccalaureate degrees.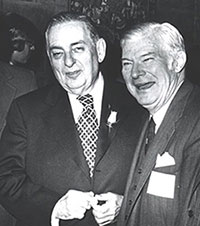 1963
January: Chancellor Litchfield appoints Dr. Donald E. Swarts, previously the dean of Pitt's Johnstown campus, as the first president of the University of Pittsburgh at Bradford. J. Bertram Fisher, the president of the Kendall Refining Company, becomes the first chair of the Bradford Campus Advisory Board.
May 2: Official kickoff of the first Pitt-Bradford fundraising campaign, with a goal of $542,015.
June: Fund drive far surpasses its goal, bringing in a grand total of $754,775.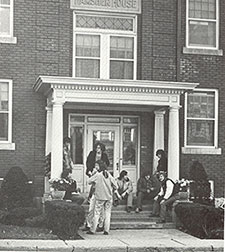 September 3: Pitt-Bradford opens its doors, offering courses in engineering and liberal arts at Hamsher House—a renovated former Bradford Hospital nurses' residence—on Pleasant Street. The initial enrollment is 130 students.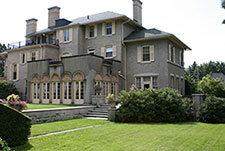 November: Pitt acquires an historic house at 120 School Street to serve as the president's residence.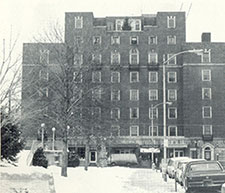 1964
May 9: Pitt reaches agreement to purchase the Emery Hotel in downtown Bradford for use as a dormitory to relieve a shortage of student housing.
1965
Students who have completed two years' worth or coursework at Bradford begin transferring to the Pittsburgh campus or to other colleges.
July: Chancellor Litchfield resigns amid a major financial crisis at Pitt. His successor is Dr. Stanton C. Crawford.
1966
January: Following the death of Chancellor Crawford, David Kurtzman becomes chancellor of the university.
May 16: A controversial urban redevelopment plan that would have razed many existing buildings in Bradford to make way for enlarging the Pitt-Bradford campus is soundly defeated in City Council.
August 23: Pennsylvania Governor William Scranton signs landmark legislation making Pitt a state-related university. In exchange for greater state funding, Pitt lowers tuition at all campuses to make undergraduate education more affordable.
November: City of Bradford completes annexation of the Onofrio Tract, a largely vacant area of land on the city's western border. City and university officials plan to cooperate to build athletic fields on this site, marking Pitt-Bradford's first expansion beyond its original downtown location.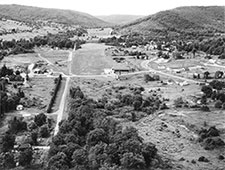 1967
April 17: Pitt-Bradford announces that the Witco Chemical Corporation, parent company of Kendall Refining, has agreed to donate to the university the site of the Harri Emery Airport along the West Branch of Tuna Creek in Bradford Township. This massive land acquisition will enable Pitt-Bradford to start building an entirely new campus west of the city.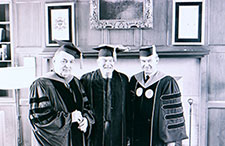 June: Chancellor Wesley W. Posvar takes office.
September: Regional campuses are placed under the authority of the newly established Office of the Provost.
Desperate for more classroom space, Pitt-Bradford begins holding some classes in a converted hardware store on Main Street known as the Emery Engineering Building.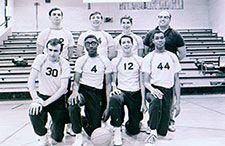 The Pitt-Bradford Panthers basketball team begins intercollegiate competition.
1968
After attempts to obtain grants from the federal government for construction of new campus buildings are largely unsuccessful, Pitt-Bradford enlists the help of State Representative Victor Westerberg and State Senator Richard C. Frame to explore possible avenues for state funding.
1969
February 21: First groundbreaking at the Onofrio Tract begins a long, difficult process of planning and site preparation for the athletic fields.
The initial master plan for the West Branch campus is completed. Authorization for the first two academic buildings is included in the state capital budget, but unrelated political disputes will hold up release of the funding for several years.
Pitt-Bradford acquires its first computer with financial assistance from the McKean County Commissioners.