1980
As a four-year college, Pitt-Bradford joins the National Association of Intercollegiate Athletics and expands its athletic program.
Campus Drive is opened to establish better connections among the main academic quadrangle, the gymnasium, and the Onofrio Tract.
December: The Pennsylvania legislature authorizes construction of a library and administration building on the Bradford campus and appropriates funds for construction, with a projected opening date of 1985.
1981
Pitt-Bradford adopts new requirements for its four-year undergraduate curriculum.
The university extends certain instructional programs from the Bradford and Titusville campuses to Warren County.
The Bradford Educational Foundation is created as a vehicle to receive, invest, and distribute private contributions that will enrich academic and cultural programs at Pitt-Bradford and provide student scholarships.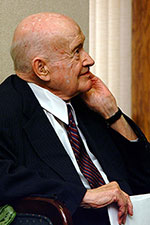 April 6: "Dr. Laing Week" commemorates the retirement of Dr. Robert C. Laing, Jr., a beloved professor of English who had been teaching at Pitt-Bradford since 1964.
1982
Provost Robert Nossen suggests merging the Pitt-Bradford and Pitt-Titusville campuses to create an overarching "University of Pittsburgh Northwest." This idea, a response to economic difficulties and to the slow growth of the Titusville campus, gets respectful consideration but is abandoned by 1984.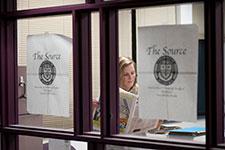 March: The Pitt-Bradford student newspaper is revitalized and renamed The Source.
August: Pitt-Bradford learns that it has won a Title III grant from the federal Department of Education. The grant, which may be extended over as many as seven years, will be used to strengthen the institution by simultaneously upgrading multiple academic programs, computer systems, and student counseling and faculty-development opportunities.
1983
June: Pitt-Bradford takes a big step into the modern information age by using Title III funds to purchase a state-of-the art VAX academic computer system and establish its first Computer Aided Learning Center in Fisher Hall.
Pitt-Bradford begins supporting the Elk County Collegiate Center, offering college-level coursework off-campus in St. Marys and Emporium.
September: Soon after Pitt-Bradford holds a groundbreaking ceremony for the new library, the state government suddenly puts the project on hold by imposing a moratorium on most state-funded capital improvements.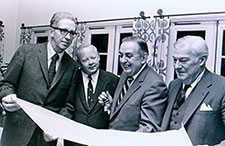 1984
February 15: The Commons is renamed for State Representative Victor Westerberg and State Senator Richard C. Frame in honor of their long, tireless, and successful efforts to obtain state funding for capital projects at Pitt-Bradford.
November: A university-wide planning process endorses the objective of making the Bradford campus a comprehensive undergraduate college. However, it stresses that Pitt has few financial resources to put into further improvements at the regional campuses. In response, President McDowell sets up a Strategic Planning Committee to set goals for Pitt-Bradford's future and identify possible alternative means of support.
1985
Pitt-Bradford receives its first state Rural Education Initiatives grant.
The Allegheny Research and Development Center (ARDC) is created to engage Pitt more deeply with the economic development needs of Northwestern Pennsylvania.
Delta Omega Phi becomes the first Pitt-Bradford fraternity to receive official recognition from the university.
1986
April 10: Pitt-Bradford celebrates the release of state funding for library construction after years of delay.
1987
Pitt celebrates its bicentennial, and the Bradford campus marks its 25th anniversary.
The Petroleum Engineering Technology program, which is suffering from declining enrollment as low oil prices depress industry demand for its graduates, enters its final year.
March: Pitt-Bradford begins observing Women's History Month.
1988
February: Pitt-Bradford celebrates Black History Month for the first time.
September: The new library and administration building is fully open to the campus community and the public.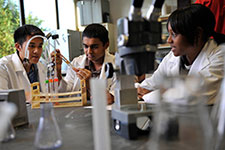 1989
Pitt-Bradford's Title III grant ends after seven years, during which it had brought roughly $2.8 million in public investment to the campus and supported the creation of popular majors in fields such as Biology, Chemistry, Computer Science, and Economics.
An annual line item in the Pennsylvania state budget ensures state funding to help Pitt-Bradford continue many of the improvements that began under Title III.
Initial wiring of the campus for a sophisticated digital telecommunications network is completed.
    
October 13: Campaign 2000, the third capital campaign in Pitt-Bradford's history, receives its public kickoff. The goal is an ambitious $8 million for a slate of projects that includes increasing the endowment for scholarships, constructing a center for the fine and performing arts, and expanding and modernizing the gymnasium.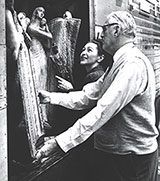 October 17: The T. Edward and Tullah Hanley Library is formally dedicated, with Tullah Hanley and many state and local dignitaries in attendance.