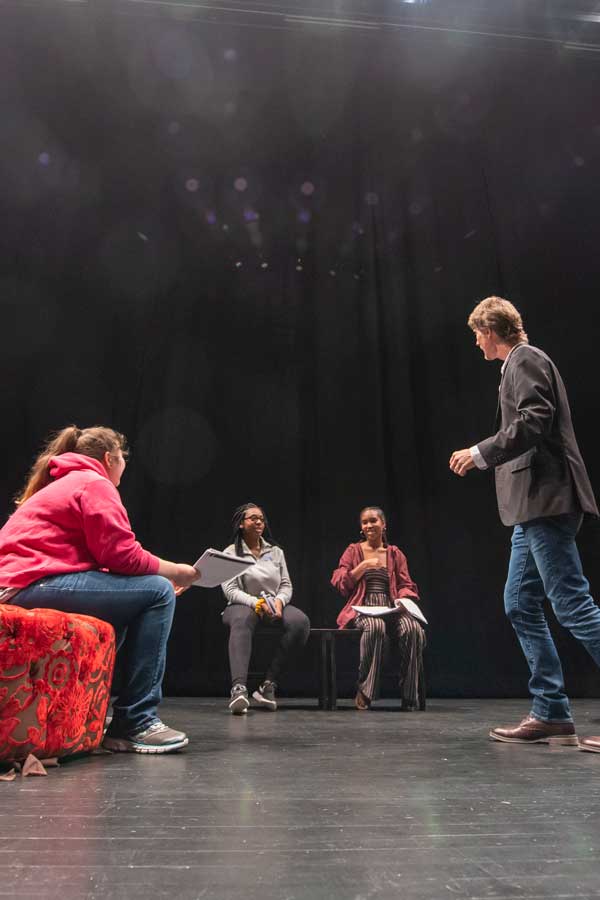 Interdisciplinary Arts - BA
Turn your passion for art, music, theater or writing into a career in which you create, investigate, problem solve, perform and critique.
WHY STUDY INTERDISCIPLINARY ARTS?
The world needs creative people who can run a museum, design publications, manage an arts organization, design sets or exhibits, or photograph events.
WHAT WILL I LEARN?
You'll draw, paint, sculpt and manipulate digital images. You'll perform, study an instrument and compose. You'll act, create sets and design theatrical productions. You'll write poetry or creative nonfiction, edit literary productions and produce a newspaper. Best of all, you'll investigate the fascinating ways these disciplines interact.
WHAT CAN I DO WITH A DEGREE IN INTERDISCIPLINARY ARTS?
When you graduate, you'll be prepared for many exciting careers in the arts.  You might become an arts journalist, a gallery or museum curator, or a talent manager.  You could direct a performing arts organization, or continue your studies in graduate school.
Job titles:
Artist
Art director
Arts administration/management
Critic 
Museum curator
Conservator
Exhibit designer
Graphic designer
Photographer
Set designer
Stage manager
Featured Courses in This Program
IA 0101

Arts Awareness

This arts seminar course encourages an integrated exploration and analysis of the arts. The course is taught in the hybrid format in which students attend a weekly seminar, engage in online course activities, and attend arts events. An important focus of the course is on various interdisciplinary approaches to the arts. Several events are made available for the students each term through the college's spectrum series.

ART 0113

Digital Photography I

This course is an introduction to digital photography and imaging. Emphasis will be placed on digital applications, processes, and concepts in the production of a body of contemporary photographic inquiry. A digital camera is required. GE: Arts

MUSIC 0215

Digital Music Creation

Dance music, hip-hop, R&B, pop, indie, all of these (and more) make use of the techniques of digital music creation. Students interested in creating their own digital music can enroll in this hands-on course to begin their own exploration of music software and hardware. Using programs like Audacity, Ableton Live, and Reason, students will complete a series of creative projects as they learn to record and manipulate their own sounds and songs. This class satisfies a GE: Arts requirement.

THEA 0103

Theatre Practicum: Performance

Students learn how to perform in a theatrical production by developing a system for character development, line memorization, rehearsals, and all the other production systems. A student needs no theatrical experience in order to try out for a role.
Interdisciplinary arts is a brilliant program, and the opportunities are endless. Manu Gajanan of Bradford
In addition to the major's requirements, you'll choose two emphasis areas: studio art or digital graphic design, music, theater or creative writing.