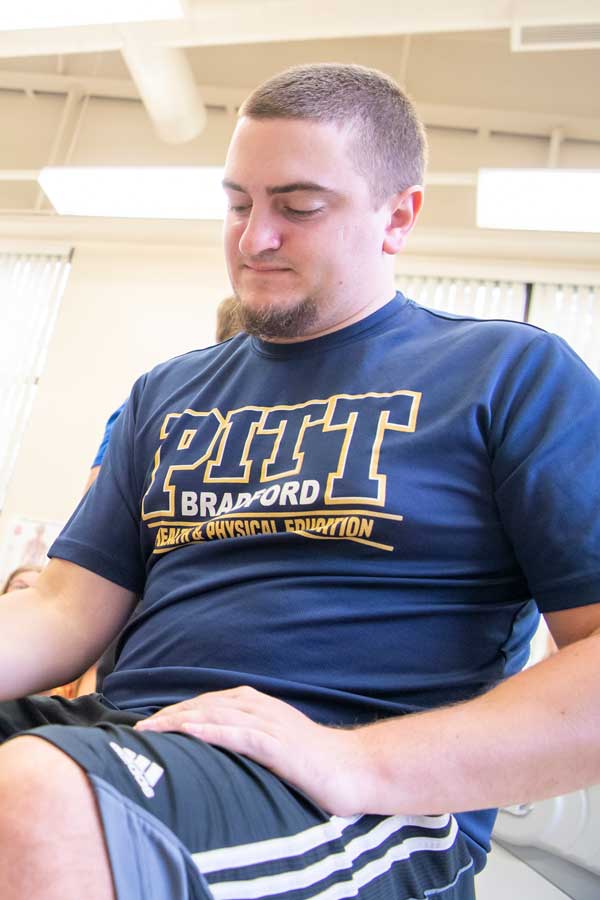 Pre-Physical Therapy
You can help people move more freely and reduce their pain.
WHY STUDY PRE-PHYSICAL THERAPY?
Physical therapists examine patients and develop a plan of care that promotes movement, reduces pain, restores function and prevents disability.
This field is expected to grow by 36% through 2024, much faster than the average for other occupations, according to the Bureau of Labor Statistics. Also, U.S. News & World Report ranked physical therapists 20th on the list of 100 Best Jobs in 2019.
WHAT WILL I LEARN?
You'll major in exercise science or biology and get a strong foundation in biology, chemistry and physics along with core exercise science courses.
WHAT CAN I DO WITH A DEGREE IN PRE-PHYSICAL THERAPY?
You'll take the prerequisites required and be well prepared to get into a graduate program in physical therapy.
Employers:
Hospitals
Rehabilitation clinics
Colleges and universities
Sports teams
Home health care services
Graduate schools:
University of Pittsburgh
Slippery Rock University
Chatham University
Gannon University
Clarkson University
Youngstown State University
Featured Courses in This Program
BIOL 0212

Human Anatomy And Physiology 1

A study of the gross and microscopic anatomy, physiology, and homeostatic mechanisms of the human body, stressing the relationship of structure to function. This semester covers cell types and tissues and the cellular processes of osmosis, diffusion, and active and passive transport; the integumentary system; the skeletal system and joints and bone metabolism; the muscular system and mechanisms of muscular contraction; the nervous system, mechanism of nerve impulse conduction, and the special and somatic senses. Three hours of lecture per week.

CHEM 0101

General Chemistry 1

The basic principles of chemistry: atomic and molecular structure, stoichiometry, and the general properties of gases, liquids, and solids. The lab emphasizes the basic techniques in quantitative study of chemical processes.

PHYS 0101

Introduction To Physics 1

An introduction to kinematics, statics, dynamics, momentum, energy, simple harmonic motion, rotational motion, wave motion, gravitation, fluids, heat, and thermodynamics. A laboratory is required.

BIOL 0101

Introduction To Cell And Molecular Biology

Designed for the student majoring in biology. Introduces basic concepts about cell structure and function, including the wide variety of macromolecules that play key roles in living systems. The genetic mechanisms by which hereditary information is passed down from one generation to the next will be discussed. Three hours of lecture and three hours of lab per week. Ge: life sciences