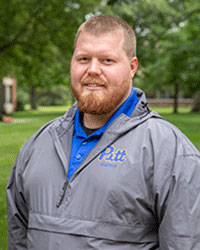 Degrees and Credentials
B.A. Sociology, Thiel College 2016
B.A. Criminal Justice, Thiel College 2016
Short Bio
The University of Pittsburgh at Bradford has announced that Blake Heim will take the reins as head coach of the university's wrestling program.
Heim served as an assistant coach for the program in the 2019-20 season, and has led the team in an interim capacity after the departure of former head coach Colin Johnston in December. He is the second head coach in the program's history.
"Blake Heim has done a very good job as an assistant and interim coach here at Pitt-Bradford and I am very pleased to announce that we have hired him to lead our wrestling program," said athletic director Bret Butler. "Blake is extremely passionate about the sport, but even more passionate about this program and its future. I am very excited for where the team goes under his direction."
In Heim's first season in Bradford, he aided Coach Johnston as the Panthers picked up 2 dual meet victories, a second place finish at the Brockport quad-match and had one wrestler, Mitchell Dowd, earn a podium place at the regional tournament.
Prior to joining the Panthers, Heim was a four year member of the wrestling team at Thiel College, graduating in 2016. At Thiel, Heim compiled a 56-24 record on the mat and was selected as a team captain for his senior season. Heim has also previously served as the head coach at Commodore Perry Junior High School.
Pitt-Bradford Wrestling joined the Eastern Collegiate Wrestling Conference in June of 2020. They will begin competition in the league in the 2021-22 season, after only wrestling in a non-competitive season this year.