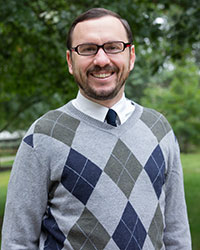 Degrees and Credentials
Ph.D. Chemistry, University of Minnesota 2014
B.S. Chemistry, University of Delaware 2006
B.A. Music, University of Delaware 2006
Short Bio
Before joining the Pitt-Bradford faculty in 2017, Dr. Sadowsky was an guest researcher at the Institute of Biogeochemistry and Pollutant Dynamics (IBP) of the Swiss Federal Institute of Technology in Zurich
(ETH) from 2012-2014 and a postdoctoral researcher at the School of Architecture, Civil, and Environmental Engineering (ENAC) of the Swiss Federal Institute of Technology in Lausanne (EPFL) from 2015-2016. He currently serves as Chair-Elect of the Penn-York Section of the American Chemical Society and Director of the Terra Twin Tiers Regional Science Fair. He lives in Bradford in a house that has been in his family for five generations.
 
Academic Focus
Dr. Sadowsky teaches courses in general chemistry, environmental chemistry, and scientific computation.
Research, Accomplishments, and Publications
Dr. Sadowsky works on the development of new computational methods for the study of aqueous solvation and the application of computational methods to problems in environmental science.