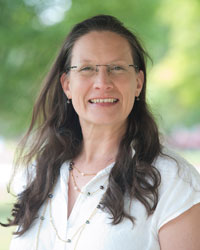 Degrees and Credentials
Ph.D. Ecology, University of California, Davis
B.S. Ecology, San Francisco State University, CA
Short Bio
Before coming to Pitt-Bradford, Piechnik held two post-doctoral scholar positions at Penn State - University Park. Piechnik performed an ecological analysis of the arthropods of the Gettysburg National Military Park (Gettysburg PA) as a Research Associate with PSIEE and the Dept. of Entomology. She also performed research on GIS methods to place pasture-based Best Management Practices at the USDA-ARS Pasture Systems and Watershed Management Research Unit. Dr. Piechnik earned her dissertation at the University of California, Davis. Her dissertation is titled "Experimental Analysis of Spatial Relationships of Food-webs during Community Assembly."
Research, Accomplishments, and Publications
Dr Piechnik's research interests include integrating approaches from community, landscape, and population ecology to understand mechanisms of biodiversity, and determining factors responsible for biodiversity patterns and their effects which produce complex patterns in natural and human-dominated systems. Dr. Piechnik is a member of the Ecological Society of America.
Select Publications:
Piechnik, D. A. 2013. Trophic levels colonize sequentially but effects of habitat size and quality are transient. Acta Oecologica 47: 85-94.
Piechnik, D.A., Goslee, S.C., Veith, T, Bishop, J, and Brooks, R. 2012. Trophic placement of management practices in riparian zones to reduce water quality impact from pastures. Landscape Ecology 27: 1307-1319.
Piechnik, D.A., Lawler, S.P., Martinez, N.D. 2008. Food-web assembly during a classic biogeographic study: species' "trophic breadth" corresponds to colonization order. Oikos 117: 665-674.
Visit Dr Piechnik's personal web page for more information.