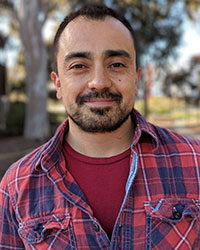 Degrees and Credentials
Ph.D. Communication Studies, University of California 2017
M.A. Latin American Studies, University of California 2010
B.A. Sociology, Hunter College 2008
Short Bio
Diego Mauricio Cortes is a native of Bogotá, Colombia. He has performed an extensive research among Colombian indigenous organizations. Currently, he is working on his book manuscript titled Modernizing through Electronic and Digital Media: Catholic Institutions, the State, Evangelicalism and Indigenous Cultures in the Andes.
Dr. Diego Cortes shares some of the highlights of both his home country of Colombia and his favorite place on Earth: Tijuana, Mexico.

Research, Accomplishments, and Publications
Cortes, D.M. (2019). "Foes and allies: The Catholic Church, Acción Cultural Popular (ACPO), and the emergence of the indigenous movement in Cauca, Colombia".Latin American and Caribbean Ethnic Studies.
Cortes, D.M. (2019). "'Era mejor cuando eramos ilegales - It was better when we were Illegals' Indigenous people, the State and community radio stations in Colombia".Journal of Alternative and Community Media.
Cortes, D.M. (2019) "Radio indígenas y estado en Colombia ¿Herramientas "políticas" o instrumentos "policivos"? Edición especial #140 enComunicación y Medios Comunitarios. Chasqui. Revista Latinoamericana de Comunicación.
Cortes, D.M. (En prensa). "Evangelical indigenous radio stations in Colombia: between the promotion of social change and religious indoctrination."Global Media and Communication.
Cortes, D.M.; Montano Ullune, R.; & Montano Ullune, J. (2018). "Infografía de la historia Misak".Memorias de la Conferencia ARNA, 2007.
Cortes, D. M. (2016). "Representación indígena en el periodismo colombiano. El cómo y el por qué".Jangwa Pana, 15(1), 88-104.