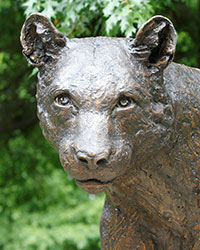 Degrees and Credentials
M.S. Applied Exercise Science, Concordia-Chicago 2020
B.S. Athletic Training, Minor in Athletic Coaching, University of Pittsburgh at Bradford 2016
Short Bio
Heidi Lucke enters her third year as an Athletic Trainer at Pitt-Bradford.
Lucke joined the staff in August 2018 in a temporary position. She spent the previous two years working as an outreach athletic trainer for Plymouth Physical Therapy Specialists in Plymouth, MI. Her primary duties included injury prevention, diagnosis, treatment, rehabilitation, and management of athletic injuries at Garden City High School.
In August 2019 Lucke was transitioned into a permanent role with Pitt-Bradford.
Lucke earned her Bachelor of Science in Athletic Training with a minor in Athletic Coaching from the University of Pittsburgh at Bradford in 2016. She completed her Masters of Applied Exercise Science with a specialization in Performance Enhancement from Concordia-Chicago in 2020. While at Pitt-Bradford she was a four year member of the softball team, earning all-conference honors her senior season. Lucke also served as the assistant softball coach for one season under Tina Phillips.
Lucke is a member of the National Athletic Trainer's Association and holds athletic training licenses in Michigan and Pennsylvania.