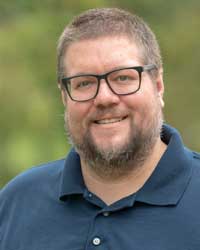 Degrees and Credentials
Ph.D. American History, The University of Memphis   2014
M.A. American History, Youngstown State University 2004
B.A. History, Youngstown State University 2002
 
Short Bio
Jack is a native of Youngstown, Ohio who has spent more than ten years teaching in the South. He previously taught at The University of Memphis, The University of Tennessee at Martin, and Texas A&M University-Kingsville. He enjoys watching Cleveland sport teams, college football (especially The Ohio State University), and Memphis basketball. Among his hobbies are playing trivia games and binge watching the next great Netflix series.
Academic Focus
I am a specialist of 20th century American History. I am an oral historian who focuses on the 1960s and southern student activism. I teach American History survey courses as well as upper division courses including, "Rise of Urban America 1877-1917" and "U.S Women's History Since 1865."
Research, Accomplishments, and Publications
My research is based on a bottom to top approach that examines how a group of black and white Memphis State students advocated for free speech, civil rights, and an end to the Vietnam War during the charged historical times of the 1960s. In my main body of work, I address how students carried out their ideas for reform and demonstrate how changes were achieved-or not achieved- at an urban commuter university in the South. I am currently in the early stages of revising my first manuscript and preparing to submit it for publication.
I have published two articles stemming from my research:
"United By A Cause: Student Activists and the Memphis Sanitation Strike of 1968." Tennessee Historical Quarterly, Vol. LXXVII Winter no. 4, 2019.
"We Didn't Reject the System, The System Rejected Us:' The SDS Failure to Obtain a Charter at Memphis State University, 1968-1970." West Tennessee Historical Papers, vol. LXII, 2008.