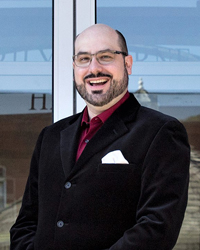 Degrees and Credentials
B.A. Art History, Edinboro University of Pennsylvania 1997
Short Bio
Matthew Hileman is the former Director of Marketing for the Bellagio Gallery of Fine Art, Las Vegas. He has worked with museums and collections from around the world including the Museum of Fine Arts, Boston, The Phillips Collection, The Moscow Kremlin Armoury Museums, and Chatsworth, the ancestral home of Britain's Duke and Duchess of Devonshire. In 2003, he worked with the Smithsonian's National Museum of American History to transfer the archives of late Hollywood director George Sidney to the museum's permanent collection.
From 2001 to 2007, Hileman was an adjunct faculty member with the Department of Art and Art History at the College of Southern Nevada. He has appeared in interviews nationally and internationally on the Travel Channel, TLC, the BBC and NPR.
In his free time he is an avid reader and collector of antiques and enjoys exploring and photographing the regional 19th-century architecture of Western New York and Pennsylvania.
Matthew is currently an adjunct professor in the Division of Communication and the Arts.
Research, Accomplishments, and Publications
Author: The Impressionist Landscape from Corot to van Gogh: Masterworks from the Museum of Fine Arts, Boston, 2005