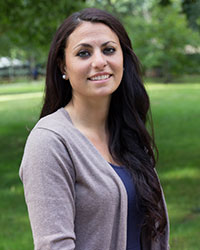 Degrees and Credentials
M.A. Education, Greenville University 2020
B.S. Physical Education, Houghton College 2013
Short Bio
Melissa Graham is entering her third season as Pitt-Bradford's head women's soccer coach.
During her inaugural season in 2017, Lincoln led Pitt-Bradford to an 8-8-2 overall record and a 3-4-2 mark in AMCC action.
Under Graham's guidance, goalkeeper Sarah Dailey and midfielders Meghan Stuck, Kaitlyn Williams and Courtney Shade earned All-AMCC honors over the past two seasons.
She comes from Houghton College, where she was a standout player and assistant coach for longtime head coach David Lewis.
Graham graduated from Houghton with a bachelor's degree in Physical Education and a minor in sports Ministry in 2013.
During her four year playing career, the Highlanders won two National Christian College Athletics Association (NCCAA) Division I regional championships, securing spots in the National Tournament, and they earned an NAIA American Mideast Conference Tournament championship while making a pair of appearances in the NAIA National Tournament Sweet Sixteen.
After graduation, she spent two years as the girls' soccer varsity head coach at Avoca Central School in Avoca, NY, where she saw seven total players selected as league all-stars and four named to the Exceptional Senior Team.
In 2016, she returned to her alma mater to serve as an assistant coach focusing on the relational aspect of coaching, building and maintaining strong connections with her players. During this season she helped Lewis guide a young team to the NCCAA Division I National Tournament Final Four. 
Melissa is married to Athletic Training Professor, Doug Graham, and currently resides in Bradford. And is an active leader in Pitt-Bradford Christian Athletes Fellowship.