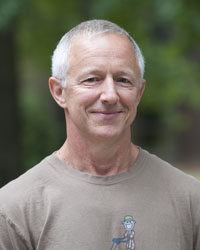 Degrees and Credentials
Ph.D. Nuclear Engineering, Pennsylvania State University 1991
M.S. Nuclear Engineering, University of Michigan 1979
B.S. Nuclear Engineering, Pennsylvania State University 1978
Short Bio
Dr. Mattis came to Pitt-Bradford in 1985.  He served as a W.C. Foster Fellows Visiting Scholar at the U.S. Department of State in the Verification and Compliance Bureau, Office of Nuclear Affairs in 1999-2000 and served as a consultant for the Department. He calls nearby Kane, PA home. In his free time, Mattis enjoys mountain biking, cross-country skiing, weight training, and reading.
Research, Accomplishments, and Publications
His main research interests include parallel processing, particle transport theory, arms control, and national security issues.