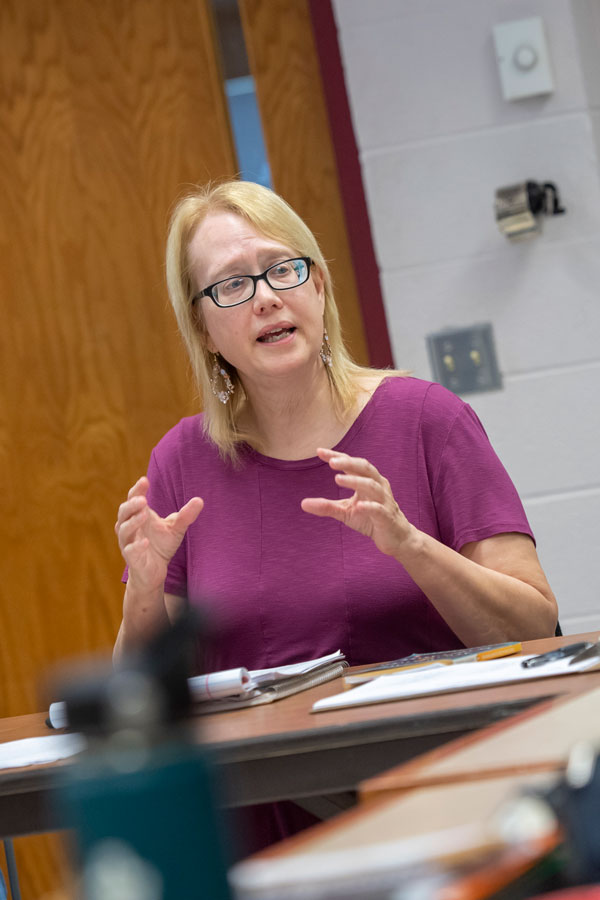 Writing - BA
Become one of the effective writers our world needs, no matter what medium you choose.
WHY STUDY WRITING?
Good writers are needed everywhere: in magazines, blogs, internal communications in a company or organization, external communications and public relations, for screenplays, works of fiction and nonfiction, and in many more places.
You'll have many chances to write, which will make you a better writer. Your work may get published in our literary magazine, Baily's Beads, which has been recognized several times by the prestigious Columbia (University) Scholastic Press Association as one of the best college literary magazines in the United States. You can work on our award-winning newspaper, The Source. You'll also get to rub elbows with professional writers, some of whom are our alumni, and help local schoolchildren become better readers and writers.
WHAT WILL I LEARN?
You'll study fiction, poetry, creative nonfiction, journalism.
WHAT CAN I DO WITH A DEGREE IN WRITING?
When you graduate, you'll have many kinds of jobs to choose from because employers are always looking for people who write well. Our graduates work as technical writers, writing teachers, newspaper reporters and editors, songwriters and freelance writers. Others have published articles and books. Or, you can take what you have learned and go to graduate school.
Job titles:
Author
Biographer
Editor
Editorial writer
Fact checker
Journalist
Proofreader
Fundraiser 
Publicity director
Technical writer
Employers:
Advertising agencies
Newspapers
Publishers
Magazines
Corporations
Educational institutions
Public relations firms
Law firms
Featured Courses in This Program
COMM 0106

Course 1 Name

News Writing

Course 1 Description

Introduction to writing for news media including the techniques and functions of reporters. The essentials and types of writing for the media will be examined, as will appropriate moral and legal issues. Emphasis will be on both real an hypothetical writing assignments and class discussion of the results.

WRITNG 0220

Course 2 Name

Feature Writing

Course 2 Description

This course will explore feature writing for newspapers and magazines including the research and development of articles through revision and editing and reading of models for inspiration.

WRITNG 1305

Course 3 Name

Technical Writing

Course 3 Description

This course is designed to teach students on-the-job writing skills. Much industrial writing is informative and involves explaining something to varied audiences. If you always hated awkward assembly instructions or confusing manuals, here's your chance to change the world. The course will teach techniques of audience analysis, user-testing and fog indexing to predict the success of a document. Organization of data will be stressed along with revision, team writing and document design.

WRITNG 1450

Course 4 Name

Topics In Writing

Course 4 Description

Advanced study of a special topic in journalism, fiction, poetry, or technical writing.