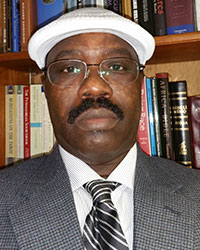 Degrees and Credentials
Ph.D. French and Francophone Literature and Cultures, State University of New York at Buffalo
M.A. French, Queen's University in Canada
M.A. French, University of Lagos, Nigeria
B.A. French, University of Lagos, Nigeria
Short Bio
Most recently Dr. Ogundayo taught graduate and undergraduate courses in Caribbean Studies and Francophone literature at the University of The West Indies in Barbados.
He has also taught at SUNY Buffalo; the University of Alberta, Canada; Queen's University, Canada; Ogun State University, Nigeria; and most recently was an assistant professor of French at Whitworth University in Spokane, Washington.
Academic Focus
Dr. Ogundayo is fluent in Yoruba (his native tongue), French, English and Hausa, and holds written fluency knowledge of Spanish, Italian, and some Ghanaian languages.