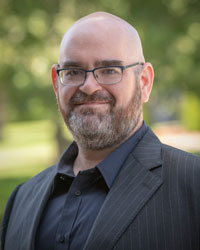 Degrees and Credentials
Ph.D. Communication: Rhetoric and Communication , University of Pittsburgh 2020
M.A. Communication and Rhetoric, University of Pittsburgh 2015
B.A. Rhetoric, UC Berkeley 2013
B.A. Classics, Ancient Civilizations Greek Language, UC Berkeley 2013
Short Bio
Birney has spent a long time involved in both the study and practice of rhetoric. As an undergraduate, he participated competitively in speech and debate and coached the award-winning student-run team. While in grad school he taught a variety of courses at the University of Pittsburgh over a period of five years. At conferences, he has presented research on a wide array of topics, ranging from how food as a signifier translates in film adaptations across cultures to the curious fragility of strength in Greek tragedy.
Academic Focus
Birney's areas of expertise are the theories and history of rhetoric, with a particular emphasis on antiquity. He has taught a wide variety of classes in the areas of public address, general communication, communication theory, and media analysis. His specialization in the Sophists of Greek antiquity may seem a strange base for these classes, but it has helped ground them firmly in theory while opening up a wide variety of possibilities for exploring practice.
Research, Accomplishments, and Publications
Combining his interests in rhetoric and media, Birney has co-authored an article on live audiences at wrestling events using their labor to demand better working conditions for their spectatorship within the WWE universe to theorize the possibility of organized audience labor in "Working Stiff(s): A Theory of Live Audience Labor Disputes," recently published in Critical Studies in Media Communication.
https://doi.org/10.1080/15295036.2019.1582790
Birney has been a top paper panelist in the Rhetorical and Communication Theory division at the National Communication Association conference and won two teaching awards during his academic career.