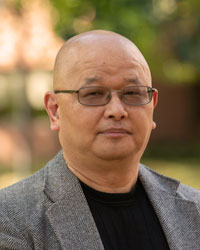 Degrees and Credentials
Ph.D. Theoretical Physics, University of Notre Dame
M.Div. Theology, Andrews University
M.A. Philosophy, Johns Hopkins University
B.S. Physics, University of Maryland
Short Bio
Dr. Choo enjoys learning and teaching. When thinking about an idea, he has a habit of ignoring traditional academic boundaries. He believes that cross-fertilization of ideas is a significant aid to learning and teaching. He often shares his passion for cars when talking to his physics students. Music enters the discussion of philosophical ideas. Philosophy tends to enter in all areas. Currently, he is trying to learn to garden, though very clumsily. Learning, however, is joyous for him.
Prior to joining Pitt-Bradford, Dr. Choo taught at numerous institutions, most recently at Pitt-Titusville.
Academic Focus
Dr. Choo teaches mainly physics, philosophy, and mathematics courses.
Research, Accomplishments, and Publications
Dr. Choo's current area of research is in philosophy of quantum mechanics and energy in various forms.