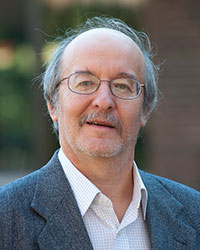 Degrees and Credentials
Ph.D. , University of Nebraska
M.S. Fairleigh Dickinson University in Teaneck
B.S. Fairleigh Dickinson University in Teaneck
Short Bio
Dr. Soriano spends his time with his two german shepherd dogs. He enjoys listening to jazz and blues.
Academic Focus
Dr. Soriano has been teaching at Pitt-Bradford since 1984. He teaches: General Chemistry, Organic Chemistry, Bio-Chemistry, Synthetic Organic Chemistry, Organic Analysis, Advanced Organic Chemistry, and Medicinal Chemistry.
Research, Accomplishments, and Publications
His research interests are currently activated carbon and the photo-Fenton reaction.