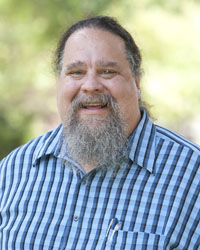 Degrees and Credentials
M.L.S. Legal Studies, University of Nebraska-Lincoln 2002
Ph.D. Counseling Psychology, University of Nebraska-Lincoln 2000
M.S. Clinical Psychology, Emporia State University 1991
B.A. Psychology, Nebraska Wesleyan University 1989
Short Bio
Dr. Page's interests focus on the interaction between psychology and law. Over the years, he has worked in various inpatient and outpatient mental health settings including prisons, forensic hospitals, juvenile detention centers, psychiatric hospitals, drug and alcohol centers, and outpatient/behavioral health centers. He has focused on adolescent and adult populations.
Academic Focus
Classes Taught:
Introduction to Psychology
Abnormal Psychology
Child and Adolescent Psychopathology
Counseling Psychology and Lab
Psychology and Law
Psychology and Environmental Problems
Topics in Counseling Psychology
Research, Accomplishments, and Publications
Dr. Page's research has focused on assessment and treatment evaluation of juvenile sexual offenders and program evaluation of suicide prevention programs. His current research focus is on criminal offender patterns and evaluating community service programs.