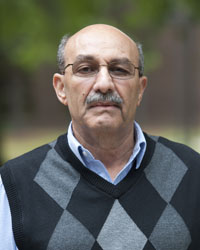 Degrees and Credentials
Ph.D. , University of Arizona
B.S. University of Baghdad
Short Bio
He enjoys vegetable gardening for his family, listening to classical and Arabic music, and reading the newspaper. Dr. Yousif likes to explore the Internet for interesting material.
Academic Focus
Dr. Yousif joined the faculty at Pitt-Bradford in 1989. He has developed and taught a variety of courses in: physics, mathematics, astronomy, computer sciences, engineering, and general education.
Research, Accomplishments, and Publications
Dr. Yousif has authored numerous articles on electromagnetic scattering, computing special functions, and quantum statistical mechanics which have appeared in leading journals. He has received many grants, including several from the Department of Energy.