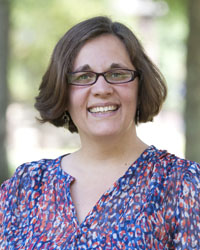 Degrees and Credentials
Ph.D. Government and Politics, University of Maryland, College Park 2007
M.A. Government and Politics, University of Maryland, College Park 2006
B.A. Psychology, The College of New Jersey 2001
Short Bio
Dr. de Vries-Jordan is an affiliated faculty member of the internationally renowned European Union Center of Excellence and the European Studies Center at the University of Pittsburgh. Previously, she has taught at Gettysburg College, Eastern Connecticut State University, North Carolina State University, Lafayette College, and George Washington University.
Dr. de Vries-Jordan has conducted fieldwork in the United States and Europe, speaks Dutch and French, and enjoys international travel. She is a co-advisor to the LGBTS Alliance, Model UN/International Politics Student Organization, and the History and Political Science Club at Pitt-Bradford. Dr. de Vries-Jordan lives in Olean with her wife and enjoys the outdoors.
Academic Focus
Dr. de Vries-Jordan's teaching is focused in the areas of comparative politics and international relations. Her classes include Comparative Politics, Introduction to International Affairs, European Politics and the European Union, Social Movements, Identity Politics, Global Environmental Politics, Media and Internet in Politics, Democratization, Politics of the Developing World, Capstone in Political Science, and Directed Research in Political Science.
Research, Accomplishments, and Publications
Dr. de Vries-Jordan is currently working on a book focused on the Marriage Equality Movement and LGBT activism, as well as articles focused on Global Justice, Anti-War, and Occupy Wall Street Movements. Dr. de Vries-Jordan has studied protest behavior internationally by conducting surveys of demonstrators, interviews with activists and organizers, narrative analysis of media coverage of protest events, and event-based data analysis of protest events. She co-authored a chapter with Dr. Mark Lichbach entitled "Theories and Mechanisms of Contentious Politics: Activists and Academics on Globalized Protest Movements," which was published in the Oxford Handbook of Comparative Politics in 2007.
Dr. de Vries-Jordan also has a professional website and a research website available for more information.