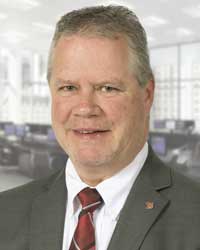 Short Bio
Jack oversees facilities management and capital projects for the University of Pittsburgh's Bradford and Titusville campuses. 
Most recently, Rae had been serving as a senior project manager for Gannett Fleming Inc., an engineering company, since 1998. During his time there, in addition to serving as senior project manager, he was the engineer of record for his projects; was responsible for all aspects of projects, from planning through commissioning; and assisted clients with regulatory compliance, asset management, implementation of Geographic Information Systems-based maintenance management system, and GIS facility mapping.  
Additionally, he collaborated with the Pitt-Bradford environmental science program to recruit students to plant four acres of reed bed rhizomes at the Bradford Sanitary Authority wastewater treatment plant in 2019.  
Prior to joining Gannett Fleming, Rae worked as a project manager and engineer at other firms, including BCM Engineers Inc. of Pittsburgh and Bengston, Debell & Elkin Inc. of Fairfax, Va. 
Rae, a Bradford native, is a licensed civil engineer in Pennsylvania. He has a Bachelor of Science in agricultural engineering from Penn State.