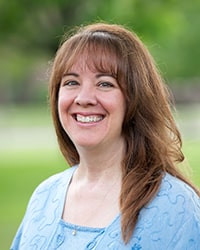 Degrees and Credentials
D.N.P Nursing, Case Western Reserve University 2007
M.S.N. Critical Care Clinical Nurse Specialist, Gannon University 1993
B.S.N. , Indiana University of Pennsylvania 1987
Short Bio
Dr. Truman came to Pitt-Bradford in 2003 as an adjunct clinical faculty and was offered a full-time position in 2004 as assistant professor of nursing and ASN Program Coordinator. In 2015, Dr. Truman was awarded tenure and in 2017 was promoted to Assistant Dean of Academic Affairs. Prior to coming to Pitt-Bradford, Dr. Truman worked as a critical care nurse, the coordinator of staff education, and a nursing supervisor. She is a Certified Nurse Educator through The National League for Nursing and a Program Peer-Evaluator for Accreditation Commission for Education in Nursing (ACEN).
Dr. Truman completed the coursework for her Doctorate of Nursing Practice degree from the Frances Payne Bolton School of Nursing at Case Western University. Her research focus was Identifying Predictors of NCLEX-RN Success and Failure in an ADN Program. Her other research interests include program assessment and simulation using standardized patients, about which she has delivered presentations at various conferences. Dr. Truman continues to work as a nursing supervisor at Bradford Regional Medical Center and is an active volunteer for the American Heart Association.
Academic Focus
Professor Truman instructs in the ASN and RN-BSN completion programs, as well as the Pre-Radiological Science Program. She provides didactic, laboratory and clinical instruction in Fundamentals of Nursing; didactic and laboratory instruction in RADSC Basic Human Needs; and classroom instruction in Nursing Comprehensive I, II, and III, Capstone: Professional Nursing Role, Advanced Clinical Practicum, and Pathophysiology.
Research, Accomplishments, and Publications
Certified Nurse Educator, 2009 - 2024
PBAA Teaching Excellence Award 2015, Pitt Bradford Alumni Association
Chair's Faculty Teaching Award 2009, University of Pittsburgh at Bradford
Northwest Pennsylvania Area Health Education Cent Board Member
Professional Affiliations:
Accreditation Commission for Education in Nursing (ACEN), Program Evaluator for Associate Degree Nursing
American Cancer Society
American Heart Association
American Nurses Association
National League for Nursing
Sigma Theta Tau