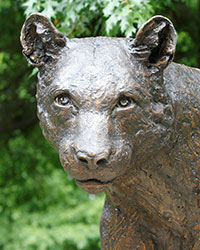 Degrees and Credentials
B.S. Computer Science, University of Pittsburgh Bradford
Short Bio
Jeremy Callinan has been an adjunct instructor at the University of Pittsburgh at Bradford since 2006, teaching various classes in Virtual Reality, Video Game Programming, Object Oriented Programming, and Mobile Application Programming. Jeremy has also organized summer camps in VR, game programming, web design and eSports, and the annual Global Game Jam since 2016.
Jeremy has a Bachelors of Science in Computer Science from the University of Pittsburgh at Bradford, and a Masters of Business Administration from the University of the People. He has worked in IT and has several years experience as an entrepreneur starting several businesses online and the Bradford area. He is currently the IT Manager at American Refining Group in Bradford, PA.
Jeremy's interests include family, IT in all forms, gaming, and he is especially excited to teach Virtual Reality in the new VR lab in the George B. Duke Engineering and Information Technologies Building. The VR lab will allow Pitt-Bradford to use Virtual Reality more effectively in teaching, and in cross-program research projects, with other programs such as Engineering and Psychology.