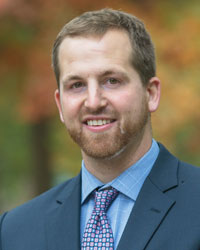 Degrees and Credentials
Sports and Recreation Management
University of Pittsburgh at Bradford, 2013
Short Bio
Coach DeLoof history at The University of Pittsburgh at Bradford began as a player, then an assistant coach, and now Head Men's Basketball Coach.
During DeLoof's four years on Pitt-Bradford basketball team, he played in 74 games and started in 55, including all 51 of his last two seasons. He was a part of 49 victories and appeared in four AMCC post-season tournaments.
After DeLoof graduated with a degree in sport and recreation management, DeLoof remained a part of the Pitt Bradford program, serving as an assistant coach for three seasons. While DeLoof was on the team's staff as an assistant, the team compiled 43 victories and three more appearances in the AMCC Tournament, including one trip to the semi-final round.
DeLoof rejoins the Pitt-Bradford community after serving as head boys' basketball coach at Youngsville High School for three years. DeLoof took over the Eagles following a two-win season, and within three years led the team to 20 victories, a winning season for the first time in 15 years.