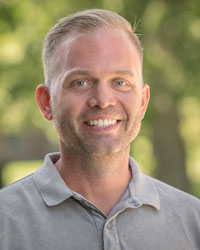 Degrees and Credentials
M.B.A. Business Administration, Saint Bonaventure University 2008
B.A. History and Political Science , Saint Bonaventure University 2005
Short Bio
Before coming to Pitt-Bradford, John worked for the Dresser-Rand Co. in Olean, N.Y. and Houston, TX, where he held a variety of accounting and finance positions, including project controller, budget analyst, inter-company accountant, and commodity analyst. In 2010, he graduated from the company's rotational Financial Management Accelerated Program. 
In 2013, he joined Pitt-Bradford full-time to teach the finance curriculum, coordinate the Heilbronn Exchange Program, and advise the Student Investment Club. Currently, John has taken over as Program Director of Accounting and is now an Assistant Professor of Accounting and Finance.
Besides his activities on campus, John is an elected city councilman in Olean, ABD in his doctorate degree, and a small business consultant. He lives in Olean, with his wife, Rachel, and their children, Lila and Jack, and spends most of his free time playing basketball, biking, or walking the city.