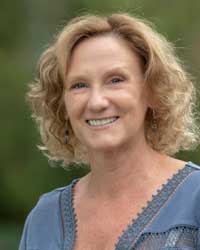 Degrees and Credentials
PhD, Philosophy, University of Hawai'i at Manoa, May 2016
MA, Philosophy, University of Hawai'i at Manoa, December 2006
JD, The George Washington University Law School, Washington, D.C., 1998
MA, East Asian Studies, Elliott School of International Affairs, George Washington, University, Washington, D.C., 1993
BA, Philosophy, St. Mary's University, Winona, Minnesota, 1985
Short Bio
Dr. Morgan began her teaching career at the University of Hawai'i, including teaching at Kaua'i Community College, where she served as the Faculty Sustainability Coordinator. She moved to Pennsylvania in August of 2021 and taught for a year at Mercyhurst University.
Academic Focus
Dr. Morgan's Area of Specialization is Ethics with a special focus on Environmental Ethics. She is particularly interested in Indigenous ways of knowing and understanding nature. She also has taught and conducted research in the area of Bioethics, activism, and philosophy of science. Her primary research focus is on challenging assumptions of how we see and believe the world to be.
Research, Accomplishments, and Publications
Dr. Morgan has been a guest panelist on Mercyhurst University Evelyn Lincoln Institute for Ethics and Society panels:  "Individualism, Community, and the Power of Symbols," February 8, 2022 and "Contemplating Afghanistan:  The Past, The Present, The Ethical Challenges," October 21, 2021. She was a guest commentator at the American Philosophical Association's Pacific Division Meeting in April of 2020, presenting:  ""Two steps forward? A Few Comments on 'Mixed Messages:  Why Feminist Interventions in Criminal Law Cannot Improve Social Norms.'" Her work in the field of indigenous environmental ethics includes the papers "The Calamity of the Common Heritage of Mankind:  The Nautilus, the UN, and the Failure of Western Legal Theory to Capture the Relationship of the Peoples of Moana Nui to the Ocean," presented at the Pacific Association for the Continental Tradition in Seattle, WA on September 13, 2019 and "Poliʻahu and Francis Bacon Protest the TMT:  Standing-with Kanaka Maoli on Mauna Kea," presented at Pacific Association for the Continental Tradition-American Association of Philosophers Conference, Mauna Kea, Hawaiʻi, September 16, 2016. She also has published a number of book reviews, including, "Can one be rude to a shoe? Saving our Humanity and The Wrong of Rudeness," Philosophy East and West: A Quarterly of Comparative Philosophy, 70:4 (October 2020).