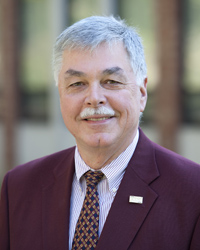 Degrees and Credentials
Ph.D. , University of Pittsburgh 1980
M.Ed. South Dakota State University 1972
B.S. Grove City College 1970
Short Bio
Dr. Evans served as the senior student affairs officer at Pitt-Bradford for 42 years, from 1976 until 2018. Appointed initially as the dean of student affairs, he was named a vice president in 1994, and retired in 2018 as vice president and dean of student affairs. In his role, he oversaw the traditional areas found within student affairs-career services, counseling services, health services, new student orientation, residential life and housing, student activities, community engagement and the chapel, and student conduct. Additionally, for 16 years (from 1999 to 2015), he served as the senior administrator responsible for oversight of the offices of admissions and financial aid, and for many years he was the administrator who oversaw athletics and recreational sports.
Dr. Evans was involved in the growth and development of Pitt-Bradford over a period that included many major milestones in the college's history-its transformation into a 4-year college in 1979, its move into NCAA Division III athletics in the 1990s, and the development of the campus master plan in 1992-1994, which created a unified architectural plan for the magnificent campus that Pitt-Bradford students, faculty, and staff enjoy today.
Dr. Evans is active in community and regional activities, and served as an elected member of the Bradford City Council. He also was a member of the Board of Directors of the United Way of the Bradford Area, and for nine years was a member of the Board of Representatives for Penn State Public Broadcasting (WPSU-FM and WPSU-TV), where he chaired the Education Committee. Currently he is on the Board of Directors of the Pittsburgh Theological Seminary, and he is a member of the Alumni Council of Grove City College. He was a long-time member of NASPA (Student Affairs Administrators in Higher Education) and is a former President of the Pennsylvania Association of Student Personnel Administrators (PASPA). In addition, Dr. Evans has served as Executive Dean on several around the world voyages of "Semester at Sea", which is sponsored by the Institute for Shipboard Education at Colorado State University, and formerly by the University of Virginia and the University of Pittsburgh.
Dr. Evans is a native of New Kensington, Pennsylvania, and a graduate of New Kensington High School. He is a veteran of the United States Air Force, having served on active duty as an officer in the Strategic Air Command (SAC) in the early 1970s. Residing in Bradford, he is married to Dr. Lisa M. Fiorentino, Associate Professor of Nursing and former Director of the Center for Rural Health Practice at Pitt-Bradford.