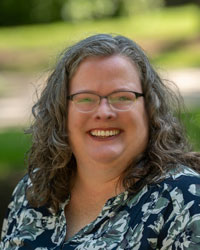 Degrees and Credentials
MA, Student Affairs in Higher Education, Indiana University of Pennsylvania
Certified Green Dot Instructor
 
Short Bio
Kara Kennedy returned to Pitt Bradford in 2019 as the Interim Director of Housing before moving into the Judicial Affairs role in the summer of 2020. She has previously worked in academic success, disability resource services, admissions, orientation, and residence life since earning her Master's degree in Student Affairs in Higher Education from Indiana University of Pennsylvania.
Kara's personal philosophy of judicial affairs mirrors that of the University: providing a fair and consistent conduct process that fosters a safe and inclusive campus community through meaningful educational interactions with students. Healthy decisions and personal responsibility are critical components of student success!
Kara lives in Bradford with her husband, Rhett. They are the proud parents of four sons – one recent UPB grad, one currently enrolled full-time at UPB, and two more headed to college in the next two years. In her free time, she enjoys living the soccer and tennis mom life, jigsaw and word puzzles, musicals, reading and binge-watching tv legal dramas.