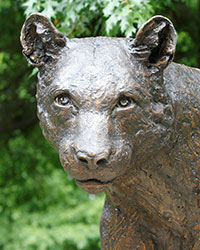 Degrees and Credentials
B.S. Education, Indiana University of Pennsylvania 1985
Short Bio
Bradford native Keith Stauffer enters his 17th season as the head men's golf coach at the University of Pittsburgh at Bradford.
In 2013, Stauffer guided the Panthers to their best season in program history with a second place finish at the Allegheny Mountain Collegiate Conference Championships. The men carded a total score of 627 for the two-day event. As a result, Stauffer earned the 2013 AMCC Coach of the Year honor.
Pitt-Bradford took first place at the Medaille Invitational on October 5. The Panthers finished with a score of 318 to defeat second-place Medaille by 17 strokes.
Stauffer placed three players on the all-AMCC list with junior Andrew Bird being named to the first team. Bird received the AMCC Player of the Week honor on Oct. 7.
Senior Zach Tarbell and sophomore Zach Spicer were each named to the all-AMCC third team.
The Panthers finished eighth at the 2012 AMCC Championships with a two-day score of 696. Casey Moyer finished tied for ninth with a individual score of 162 to lead all Panthers. He was named to the all-AMCC team for his efforts. On the year, Pitt-Bradford posted four top five finishes, including a runner-up showing at the Hilbert Invitational.
Stauffer directed the men to a sixth-place finish (649) at the 2011 AMCC championships. Zac Tarbell was the top performer for the Panthers, finishing 13th and Christian Holzwarth was tied for 17th. Senior Tyler Labesky was named to the all-conference squad for the second straight year.
In 2010, the men's golf team finished seventh (711) at the AMCC championships. Junior Tyler Labesky finished in the top five to pace the Panthers.
In his first season with the program, Stauffer led Pitt-Bradford to the 2002 AMCC championships as the team shot 306, three shots better than runner-up La Roche. The Panthers had three different golfers post top 10 finishes.
Stauffer has directed Pitt-Bradford to five top three finishes at the AMCC championships, and he was also named the 2005 AMCC Coach of the Year after the Panthers finished third. He has coached 22 all-conference performers as well as the 2004 AMCC Player of the Year and the 2009 Newcomer of the Year.
Stauffer, who is a case manager at FCI McKean, played on the Bradford High golf squad before graduating in 1981. He played collegiately at Indiana University of Pennsylvania, leading the Crimson Hawks to a pair of NCAA Division II tournament appearances. He also led Indiana to the 1984 ECAC Championship with a second-place finish individually.
Research, Accomplishments, and Publications
Stauffer received the Coach of the Year award in 2013 after leading the Panthers to a second place finish, the best in school history. He also received with award in 2005 with a third place finish.