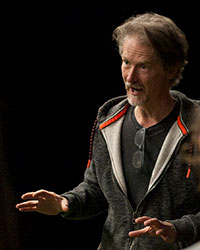 Degrees and Credentials
Ph.D. Shakespeare Studies, The Shakespeare Institute 1997
M.A. Shakespeare Studies, The Shakespeare Institute 1992
B.A. English, Trinity College, University of Toronto 1987
Short Bio
Kevin's primary research area is Shakespeare in performance. He has contributed pieces to The Routledge Companion to Directors' Shakespeare (2008) and The Routledge Companion to Actors' Shakespeare (2011) and was the Associate Editor for the latter volume. He is one of the Series Editors (2010 to present) for Palgrave's The Shakespeare Handbooks on Shakespeare's Contemporaries, and wrote the volume on Henry V (2006) for that series. From 1997-2003 he was a company member and regular director for the Unseam'd Shakespeare Company in Pittsburgh. More recently, he has continued to direct professionally for Manbites Dog Theater in Durham, NC, where shows include The Pillowman in 2007 (One of the 49 Best Productions of the Decade -- The Independent), Age of Arousal in 2009 (One of the Top 10 Productions of 2009 -- The Independent), Buddy Cop 2 in 2011 and, for Little Green Pig Theatrical Concern, Celebration in 2014 (One of the Top Ten Productions of 2014 -- The Independent) and Master Builder in 2018.
View more details at kewert.com
Academic Focus
Dr. Ewert teaches Introduction to Theatre, Play Analysis, Modern Black Theatre, Movement and Stage Combat, Basic and Advanced Acting, Directing, Shakespearean Performances, and he directs the student production each semester.
Research, Accomplishments, and Publications
Dr. Ewert has developed Africana Studies classes for Pitt-Bradford on Modern Black Theatre and Modern African-American Cinema. His book "Shakespeare and Directing In Practice" (Palgrave Macmillan) was released in 2018.