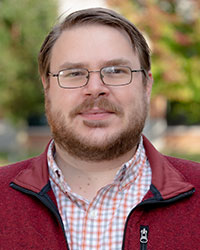 Degrees and Credentials
MLIS, University of Pittsburgh
Short Bio
Marc, who has been serving as head librarian on the Titusville campus, has also recently accepted an appointment to serve as head librarian at Hanley Library, filling the vacancy created when Marietta Frank retired in the summer. 
He has been head librarian at Haskell Memorial Library on the Titusville campus since 2014 and has served as a part-time instructor, helping students make the transition from high school to college, develop critical-thinking skills, and use both face-to-face and online learning methods.
Prior to being named head librarian in Titusville, Marc held several library positions on the Pittsburgh campus, including information technology facilitation specialist, research assistant, and EZBorrow and circulation desk specialist.
Marc earned his Master of Library and Information Science from the University of Pittsburgh and is currently working on his Doctor of Education from Pitt.