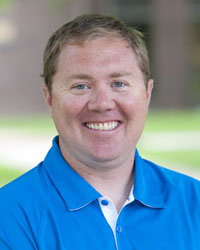 Degrees and Credentials
Ph.D. Education: Leadership for Higher Education, Capella University
M.S. Exercise and Wellness Promotion, Slippery Rock University
B.S. Sports Medicine, University of Pittsburgh at Bradford
Short Bio
Dr. Kelley has taught and directed the current Exercise Science program at Pitt-Bradford since 2004. He also served as the Director of Sports Medicine from 2004-2013. In 2013-2014, he directed the process of designing the current Exercise Science major and curriculum. He currently directs and teaches all courses within the Exercise Science program. In 2017, he formed the Exercise is Medicine on Campus program at Pitt-Bradford, which is officially recognized by the American College of Sports Medicine. The Exercise is Medicine on Campus program has been awarded a Bronze campus award in 2018, a Silver campus awards in 2019 and a Gold campus award in 2020. He is also recognized as an Exercise is Medicine Ambassador by the American College of Sports Medicine. From 2009-2012, Dr. Kelley directed Pitt-Bradford's Freshman Seminar program, overseeing all aspects of the Freshman Seminar program.
Dr. Kelley was awarded the Pitt-Bradford Alumni Association Teaching Award in 2013 and the Chairs Faculty Teaching Award in 2018. His research interests include job satisfaction and physical activity among individuals.  He has traveled to Budapest, Hungary to study physical activity between cultures. Dr. Kelley is also active in the Bradford community, where he serves as the Head girls cross country coach and assistant track and field coach at Bradford Area High School.
In his free time, Dr. Kelley enjoys golfing, running, watching Apple TV, traveling with his wife and dog and working around his home. He has completed 6 marathons including Chicago, Columbus and Pittsburgh marathons. He lives in Bradford with his wife, Barbara and their dog, Hudson.