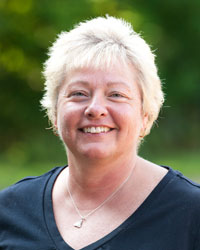 Degrees and Credentials
M.S.N. University of Pheonix 2006
B.S.N. Alfred University 1992
A.S.N. University of Pittsburgh 1984
Short Bio
Mary joined the faculty at Pitt-Bradford in 2006. Prior to her full-time status, Mary taught clinical on a part-time basis for Jamestown Community College and worked full time at Bradford Regional Medical Center as a nursing supervisor.
Mary brings to the department experience in management of Surgical Services, Emergency Services, and Critical Care. She has also spent a great deal of her career working in the operating room. She became a certified nurse in the operating room in 1994. Mary also attended school in Florida, completing her certificate as a registered nurse first assistant in the operating room. She continues to practice as an RN in nursing supervision at Bradford Regional Medical Center.
Mary is a board member of the United Way, chairperson for the McKean County American Cancer Society Relay for Life-Survivors, head coach of the Junior Varsity BAHS Girls softball team, director of St. Patrick's youth group, and co-leader of a junior girl scout troop. Mary also enjoys spending time with family and friends, traveling, reading, and scrapbooking.
Academic Focus
Professor Boser teaches Fundamentals of Nursing and the Comprehensive Nursing I, II, and III courses. In addition, she instructs freshman and sophomore students in medical-surgical and pediatric clinical settings.