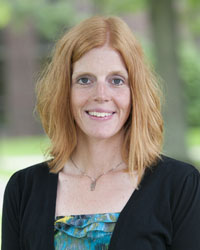 Degrees and Credentials
M.S.N. Family Nurse Practitioner focus, University of Pittsburgh 2007
B.S.N. University of Pittsburgh at Bradford 2000
A.S. Nursing, University of Pittsburgh at Bradford 1999
Short Bio
Dinger joined the Pitt-Bradford nursing faculty full time in August of 2003. Prior to her full-time status, she taught clinicals on a part-time basis for Pitt-Bradford.
Dinger teaches predominantly in the first year of the ASN program. She enjoys working with nursing students and looks forward to the challenges involving teaching and health care.
Dinger has worked in long term care and hospital-based settings. Currently she is employed part-time as a certified nurse practitioner at a gastroenterology clinic.
In her spare time, Dinger enjoys spending time with her family. She also enjoys exercising and baking.