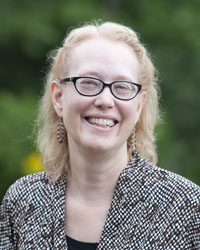 Degrees and Credentials
Ph.D. English, University of Nebraska 1995
M.F.A. Creative Writing, University of Arkansas 1989
B.A. English, Wichita State University 1984
Short Bio
Dr. McCabe is the author of eight books, including her forthcoming debut young adult novel, Vaulting through Time (CamCat Books 2023) and her forthcoming debut middle grade novel, Fires Burning Underground (Fitzroy Books/Regal House 2025.) She has published several creative nonfiction works, most recently Can This Marriage Be Saved? A Memoir (Missouri 2020), which explores the story of her ill-advised, ill-fated youthful marriage through photographs, an instruction manual, a school curriculum guide, a women's magazine quiz, and extended metaphors. Her hybrid book From Little Houses to Little Women: Revisiting a Literary Childhood (Missouri 2014) brings together travel writing, memoir, and literary criticism. Both of these creative nonfiction works are available as Audible Audiobooks.
Her other books include the novel Following Disasters (Outpost 19 2016); an essay collection, After the Flashlight Man: A Memoir of Awakening (Purdue 2003); and two books about China adoption, Crossing the Blue Willow Bridge: A Journey to My Daughter's Birthplace in China (Missouri 2011) and Meeting Sophie: A Memoir of Adoption (Missouri 2003). 
Her essays have appeared in numerous magazines, including Gulf Coast, Massachusetts Review, Fourth Genre, Essay Daily, Prairie Schooner, Salon, Newsweek, and LARB, received a Pushcart, and been selected for annual lists of the most notable American essays eight times by Best American Essays and once by Best American Non-Required Reading. Her work made Salon's Best of 2019 list, has been the recipient of two awards from Prairie Schooner, and received an Individual Artist's Fellowship in Literature from the Pennsylvania Council on the Arts. Check out her author's site, with announcements of events and links to her talks and appearances on podcasts as well as her published work, at https://www.nancymccabe.net.
She has also published poetry in many magazines, including Spillway and Harpur Palate, and has worked as a regular blogger for Ploughshares magazine. Her work related to Laura Ingalls Wilder has appeared on the Little House on the Prairie website and been quoted in the Barnes and Noble Desk Diary. In addition to directing Pitt-Bradford's writing program, she has taught for many conferences and programs, most recently on writing as a healing art and experimental story structures for the Creative Nonfiction Foundation, Louisville Literary Arts, the Strawdog Writers Guild in Massachusetts, Larksong Writers Center in Nebraska, and the Chautauqua Writer's Center. She regularly teaches workshops and mentors students at Spalding University's low-residency MFA program in creative writing as well.
Her critical articles on literature have appeared in The Looking Glass, Studies in Popular Culture, American Literature, and American Literary Review, and her teacher's handbook Making Poems: Writing Exercises for the Classroom was published in 1989 by Arkansas Writers in the Schools.
She has taught creative nonfiction, fiction, poetry, and journalism for more than thirty-five years at six colleges and universities. At Pitt-Bradford, she received the Chairs' Faculty Teaching Award for excellence in teaching in 2005 and the President's Award for Excellence in Teaching, Scholarship, and Service in 2018.