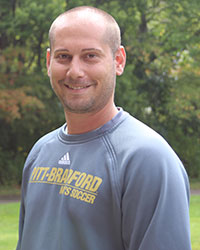 Degrees and Credentials
M.S. Sport Management, East Tennessee State University 2011
B.A. Sports Management, Lenoir-Rhyne University 2008
Short Bio
Nate Whitehurst is in his fourth year as the head men's soccer coach.
Whitehurst has increased the program's win total every year since taking over in 2016. In 2018, the team scored the most goals in a single season (22) since 2013. There have been two All-AMCC honors in the three years Whitehurst has been in charge.
Whitehurst arrived at Pitt-Bradford from Allegheny College, where he has served as an assistant coach since 2012. At Allegheny, Whitehurst helped coach 11 NCAC All-Conference players and was responsible for much of the recruiting. While specializing with the goalkeepers, his duties also included game-film analysis, travel arrangements, and assisting with team fitness and training sessions. 
Prior to his arrival in Meadville, Whitehurst served as the assistant coach at Emory & Henry College, an NCAA Division III institution in Emory, VA. His role included assisting with the day-to-day operations of the program along with scouting opponents and providing training for the athletes on the team.
Whitehurst was named the head varsity boys coach at Abingdon High School in Feb. 2010, leading the squad to three consecutive district championships and a 41-8-2 record. Whitehurst was named the 2011 District Coach of the Year and Co-Regional Coach of the Year. He also has held positions with Fusion FC in Bristol, TN, and Patrick Henry High School in Glade Spring, VA.
While at Lenoir-Rhyne, Whitehurst was a four-year athlete on the men's soccer team and was named co-captain his senior year. He helped the Bears to the 2006 Food Lion South Atlantic Conference tournament championship, completing a 19-1-1 season with a run to the NCAA Division II Sweet 16.