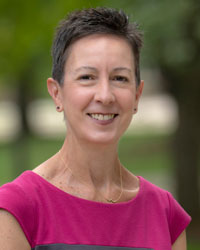 Degrees and Credentials
M.S. Integrated Marketing Communications, West Virginia University
B.A. Journalism, Indiana University of Pennsylvania
Short Bio
Pat leads all of the university's marketing and communications efforts, including overseeing all publications and advertising, championing the university's brand, publishing its award-winning alumni magazine, and protecting Pitt-Bradford's image. She also serves as the university's spokeswoman and is a member of the President's Cabinet. She also has taught social media communication and journalism courses, introducing students to the wild, wacky, and sometimes wonderful world of digital and analog communications.
In a previous life, she was a newspaper reporter and editor for 15 years.
She is a former member of the board of directors for YWCA Bradford and is a member of the Community Relations Committee of the Bradford Area Public Library. In her spare time, she reads, cooks, and spends as much time in the woods as she can photographing wildlife. She received this year's Community Choice Award in the Audubon Community Nature Center's nature photography contest for a photo she captured of a red fox with four different critters in its mouth. Several of her photos also are in the 2023 edition of Baily's Beads, including a very busy beaver and a solitary black bear.
Research, Accomplishments, and Publications
Most recently, she and her remarkable team of communicators received eight awards in the 38th Annual Educational Advertising Awards program for several creative pieces, including this 30-second video, newspaper ads, recruiting materials and an issue of Portraits, Pitt-Bradford's alumni magazine.
She and her fellow award-winning communicators have received 31 Educational Advertising Awards, 30 Collegiate Advertising Awards, and seven awards from the CASE District II Accolades program. (But who's counting, right?)
In her previous life as a newspaper woman, Pat received four Pennsylvania Newspaper Publishers' Association awards for investigative reporting, news writing and feature writing. 
She has had some of her work published, including an abridged first chapter of her novel-in-progress, "Pulling the Loose Thread" which appeared in the 2015 edition of Baily's Beads, Pitt-Bradford's award-winning literary magazine. Additionally, her "This I Believe" essay was broadcast on NPR station WPSU in State College in October 2010.  
Her most popular piece, an essay titled "The Card," was published in May 2006 in The New York Times bestselling book Wisdom of our Fathers: Lessons and Letters from Daughters and Sons by the late Tim Russert.