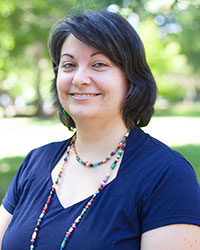 Degrees and Credentials
Ph.D. Applied Developmental Psychology, University of Pittsburgh
M.S. Applied Developmental Psychology, University of Pittsburgh
B.A. Edinboro University
Short Bio
Dr. McHugh joins us from Russellville, Arkansas. She has extensive teaching experience from Arkansas Tech University, the Community College of Allegheny County and the University of Pittsburgh.
Academic Focus
Rebecca teaches Introduction to Psychology as well as a variety of Developmental Psychology courses, including Lifespan Development, Child Development, Socio-emotional Development, and Social Influences on Human Development, among others, and has also taught courses in Research Methods, Developmental theory, and Child and Adolescent Abnormal Psychology.
Research, Accomplishments, and Publications
Rebecca's area of research is in interpersonal relationships, stigma, and identity.  Her research agenda involves exploring the concept of Visibility Management, a coping mechanism for dealing with stigma and interpersonal relationships. As a primarily qualitative researcher, she is currently working on collaborative projects dealing with gender identity, daily experiences of socio-economic resources, brief interventions for problematic alcohol use, and visibility management in various populations.