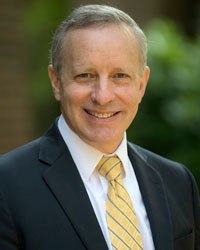 Degrees and Credentials
MBA, University of Pittsburgh Katz School of Business Executive MBA Program - 1998
BS, Environmental Science, University of Pittsburgh at Bradford 1983
 
Short Bio
President Rick Esch is a proud Pitt-Bradford and Pitt graduate who has deep roots both in the university community as well as the surrounding community.
He began his career at his alma mater in 1995 as the director of auxiliary services. In 1999, he was named chief business and administrative affairs officer and was promoted to vice president for business affairs in 2003. In 2012, he was named vice president for business affairs at Pitt-Titusville.  
After serving as interim president for a year, he was appointed president on July 1, 2022.
In June 2021, he received Pitt-Bradford's Staff Recognition Award for his leadership in helping the campus navigate the COVID-19 pandemic. For nearly 18 months, in addition to overseeing several campus departments, including budget and financial reporting, auxiliary services and facilities management, he has represented Pitt-Bradford and Pitt-Titusville on the Chancellor's Resilience Steering Committee and has worked closely with Pitt's COVID-19 Medical Response Office. He also has collaborated with local, regional and state agencies, including the McKean County and Crawford County Emergency Management agencies, UPMC and Bradford Regional Medical Center.
He also assembled and continues to lead a COVID-19 Mitigation Response Team, which included representatives from most offices at Pitt-Bradford and Pitt-Titusville. Under his leadership, the team successfully implemented many changes on campus, including testing asymptomatic students weekly; isolating and quarantining symptomatic students; adapting the physical plant, including the dining hall and classrooms, to enable physical distancing; purchasing masks, signage and other materials; and identifying vaccinations sites. 
President Esch is very active in the Bradford community. He is a board member and immediate past chairman of Journey Health System, is president and a charter member of the Tuna Valley Trail Association, a board member and managing director of the Bradford Educational Foundation, and a board member and vice chairman of the Bradford Economic Development Corp.
He also is a member of the McKean County Advisory Board at Northwest Bank, a founding board member and treasurer of the McKean County Community Foundation, and a board member of the Community Foundation of the Upper Alleghenies.
President Esch previously served as board chairman of Journey Health System from 2009-16; was active in the Rotary Club, serving as past president, past Youth Exchange Office and as a Paul Harris Fellow; was a member of the Steering Committee for Impact Bradford I and II; and was a member of the Steering Committee for Building a Better Bradford Economic Development Master Plan.