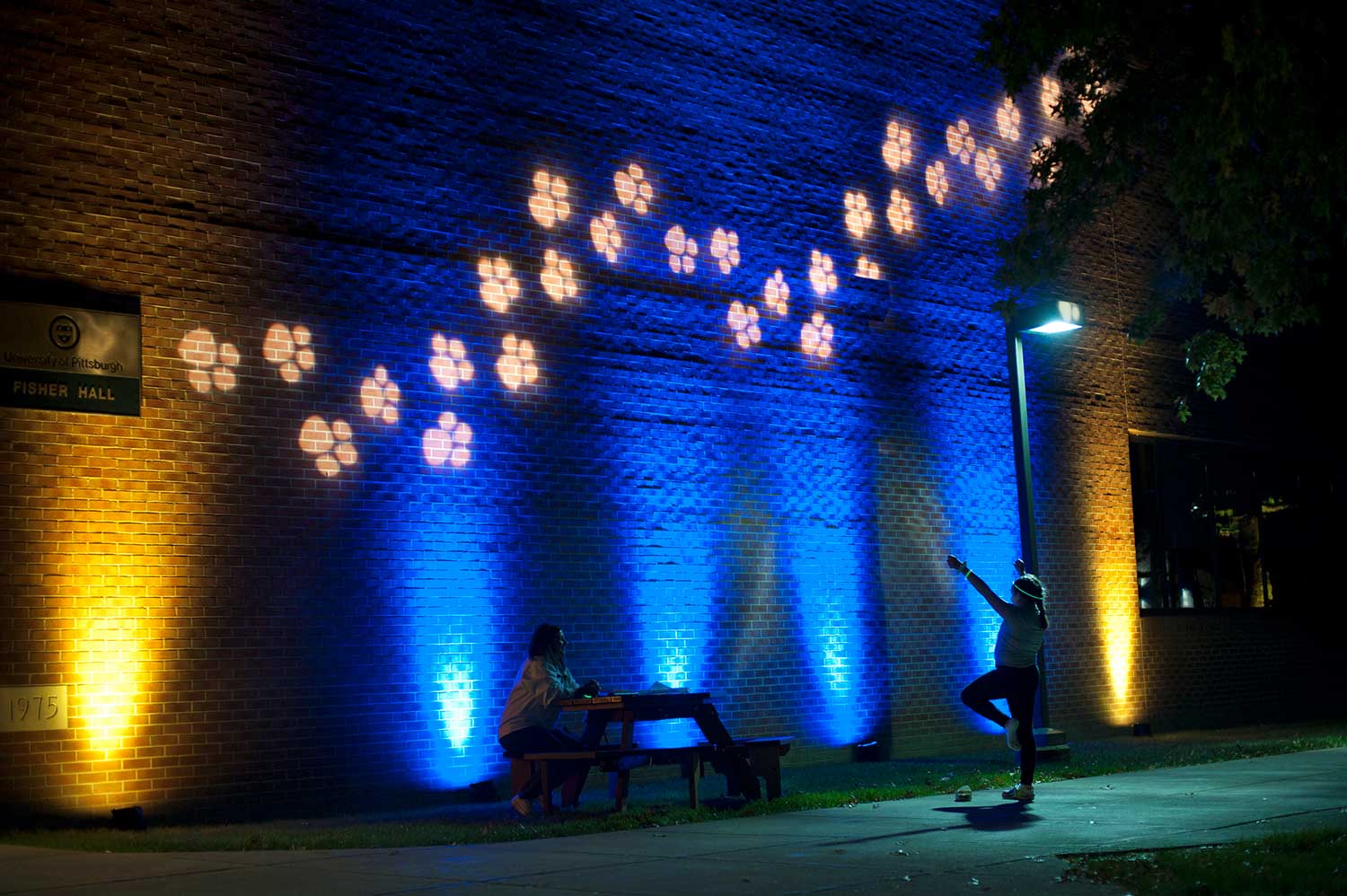 Each year we gather to celebrate Alumni & Family Weekend. The number of you who make this journey is phenomenal and speaks volumes about the Pitt-Bradford experience.
We are partners to the Bradford community and surrounding region and again this year you will see events extending to downtown Bradford. We represent, and want to celebrate more than ever, an open and diverse learning environment.
Our Alumni & Family Weekend tradition means as much to us on campus as it does to you and we look forward to seeing & celebrating with you.
Questions?
Parents and families can contact our Student Engagement Office at 814-362-7593
Alumni can contact our Alumni Engagement Office at 814-362-5091 or caleb2010@pitt.edu
Schedule of Events
All attendees must register for events.
Content
9:30-11:15am: PBAA Board Meeting
Frame-Westerberg Commons Room 218
11:30am-1pm: Career Networking Luncheon
Mukaiyama University Room
The Executive Speaker Series brings top business leaders throughout the region to our campus to discuss relevant business issues and provide important career advice and inspiration for our students. All alumni are welcome to attend and share their expertise and experiences with students who want to learn more.
3-6pm: Clinical Professional Development Workshop Sponsored by the Pitt-Bradford MSW Alumni Network
4-5pm:  Blue & Gold Society Induction & Reception
6-7pm: Pitt-Bradford MSW Alumni Network's Pamela J. Cousins Excellence in Social Work Award Networking Reception
Please join us for light refreshments and the chance to catch up with your colleagues. Together we will honor this year's Pitt-Bradford Alumni Network's Pamela J. Cousins Excellence in Social Work award recipient, as well as celebrate the wonderful work everyone pursues every day.
6-7pm: True Blue & Gold Reception
Mukaiyama University Room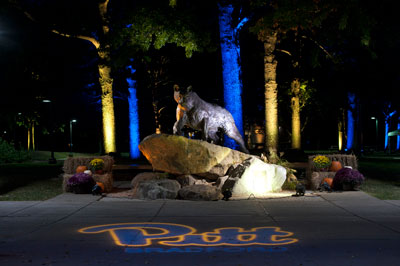 7-8:30pm: Light Up the Quad
Join students, alumni, families, faculty, and staff as we kick off the weekend together as a Pitt-Bradford community. This event showcases the beauty of our campus and will be packed with activities for all ages, including miniature golf, a glow photo booth, fun food stations, mocktails, beer and wine (proof of age required). This event will also highlight our Panthers Pack the Pantry Challenge.
8:30-10pm: Affinity Group Gatherings
Black Student and Alumni Reception sponsored by African Student Association
All "Greek" Gathering (Fraternity and Sorority Life)
LGBTQ+ Gathering sponsored by Pride Alliance
8:30pm: Faculty, Staff & Family Bonfire
Firepit located next to Campus Police
Connect with family, friends, faculty, and staff around our beautiful new fire pit next to the outdoor volleyball courts. The bonfire will feature drinks to keep you warm in addition to fun snacks and treats.
Content
9-10am: Student & Family Breakfast
Enjoy a delicious hot breakfast while connecting with other students and their families.
9-10:30am: Alumni and Student Veteran Brunch
9-10:30am: Pitt-Bradford Emeritus Society Brunch
10 am-Noon: Athletics Garage Sale 
Richard E. and Ruth McDowell Sport & Fitness Center front lobby
10-11:30am: Outdoor Games and Friendly Competitions
Robert B. Bromeley Quadrangle
10-11:30am: Campus Tours
Explore campus with tours guided by student ambassadors. Not only will you learn about recent ventures on campus and revisit longstanding locations, there will be points throughout these tours featuring faculty members and students showcasing their recent and current academic efforts.
10-11am: CSI House Interactive Tour
Take an in-depth look at our CSI house, guided by our Criminal Justice students. You will learn more about this unique landmark of academia that prepares our students for real-life scenarios. 
10-11am: Nursing Wing Interactive Tour
Visit our state-of-the-art nursing wing and see first-hand how our students are using this unique area. You will see how using these facilities help to prepare our students for successful careers in the medical field.
10:30-11:30am: Guided Trail Walk 
Meet outside of Blaisdell Hall
10:30-Noon: Retired Staff and Faculty Reception
KOA Speer Electronics Lobby
11am: Alumni Swim Meet 
Paul C. Duke III Aquatic Center
11am-3pm: Friends of Hanley Library Book Sale
11:45am-12:45pm: Metz Interactive Cooking Demonstration 
The great variety of the KOA Dining Hall expands even more. Join our Executive Chef in a live preparation of unique recipes that will be available to sample throughout the demonstration.
Noon-4pm: Pumpkin Fest and Pitt Kids Zone
Bradford's annual fall festival will feature pumpkin-themed activities, games, hayrides, and vendors. Pitt-Bradford students, located in Veterans Square, will be hosting the Pitt Kids Zone.
1pm: Alumni Baseball Game/20th Anniversary Celebration of 1st AMCC Title 
Noon-7pm: Volleyball tri-match with Mt. Aloysius and Alfred University
2:30pm-3:30pm: Interim President Rick Esch Town Hall Q&A
4-7pm: Outdoor Concert and Picnic Presented by Pitt-Bradford Arts -- Philly's Finest
In the grass between Fesenmyer and Livingston Alexander House
Enjoy a high-energy, non-stop show with top-notch choreography and exceptional musicianship! Pitt-Bradford Arts is bringing exciting entertainment that will get your heart pumping and your feet moving. Food and drinks will be available to purchase from local food trucks.
7-11pm: Family/Student escape room 
Fun for the whole family! Use your imagination and collaborate with friends and family by solving puzzles, riddles, and clues to "escape" before time runs out!
7:00pm: Phi Kappa Epsilon 30th Anniversary Celebration
7:00pm: Lambda Xi 30th Anniversary Celebration
8pm: All Alumni Gathering
Join us at The Bradford Club where you will be able to connect or reconnect with Pitt-Bradford Alumni. Drink specials begin at 8pm. For your convenience, we encourage you to use the complimentary shuttle service to and from this event.
10pm-2am: Panther-Palooza Sponsored by Young Alumni
Pitt-Bradford's young alumni are inviting all alumni to The Model T Inn for a night of indoor dancing, outdoor games, and drink specials all night. This event will have a DJ beginning at 10pm. For your convenience, we encourage you to use the complimentary shuttle service to and from this event.
Content
11am-2pm: Farewell Brunch
Reminisce about the weekend and take the opportunity to say "see you next year" to your Pitt-Bradford friends.