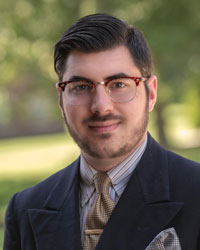 Degrees and Credentials
B.A. Interdisciplinary Arts, Graphic Design & Creative Writing, University of Pittsburgh Bradford, 2020
Short Bio
Taylor came to Pitt-Bradford in 2017 as a transfer student from California College of the Arts in San Francisco. He is an Interdisciplinary Arts major alumnus with a dual focus in graphic design and public relations. 
Taylor worked at the Marilyn Horne Museum in downtown Bradford since the spring of 2018 and has spent four summers working full time. It was during the summers that he became a fixture at the museum, known for his dapper outfits and outgoing personality. To date, he has welcomed hundreds of visitors to Marilyn Horne Hall and helped forge lasting relationships between the museum and the local community.
Taylor now continues working for the university in the position of H.R Specialist, where he utilizes his creative problem solving skills and keen eye for detail to recruit the next wave of talent to Pitt-Bradford.
Taylor has an avid personal interest in historical design styles, antiques, and fashion, and can sometimes be seen driving his 1930s sedan around campus. He has chosen to make Bradford his home, purchasing a house in the summer of 2018 where he lives with his partner and German Shepherd.