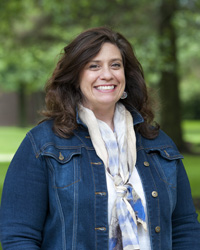 Degrees and Credentials
Ph.D. English; Focus in 19th/20th C. American Literature, University of Buffalo 2001
M.A. English, University of Buffalo 1998
B.A. English and Philosophy, Bryn Mawr College 1992
Short Bio
Dr. Tracee Howell has taught courses in literature and in composition at Pitt-Bradford since 2007. In 2015, she was appointed Director of Composition and of the Writing Center. 
Tracee has also served Pitt-Bradford as Executive Associate to the President from 2013 to 2015, working at the President's direction to oversee and support various university projects and programs. In this role she worked additionally as the Affirmative Action Officer and Title IX Liaison for Pitt-Bradford, responsible for compliance with institutional affirmative action policies and procedures. From 1998 to 2005, Tracee worked with the thirteenth and fourteenth presidents at the University at Buffalo, SUNY, overseeing leadership communications. 
At the University at Buffalo, Tracee taught courses in American literature, cultural studies, women's studies and composition. She has also taught at the Cattaraugus Campus of Jamestown Community College, offering courses in philosophy, composition and creative writing. Her background teaching at a large public research university as well as at a small community college enables her to craft courses for Pitt-Bradford students that both empower them to explore their ideas and enable them to strengthen their writing, critical thinking, and analytic skills. 
Tracee's most recent publication, "Manifesto of a Mid-Life White Feminist," can be found in the Summer 2021 issue of Peitho. With her Pitt-Bradford colleague Dr. 'BioDun Ogundayo, she is currently finalizing a co-edited collection of essays on afrofuturism for publication Her core research project is the recovery of the early 20th century fiction of the Jewish American novelist and screenwriter Vera Caspary.
Academic Focus
With a background in philosophy and critical theory, Dr. Howell's scholarly interests include the study of narrative as well as cultural, gender and media studies. She is strongly committed to anti-racist, intersectional teaching, and currently offers courses in composition; American literature; film; Shakespeare; and gender, sexuality and women's studies.