Launch Harriett B. Wick Chapel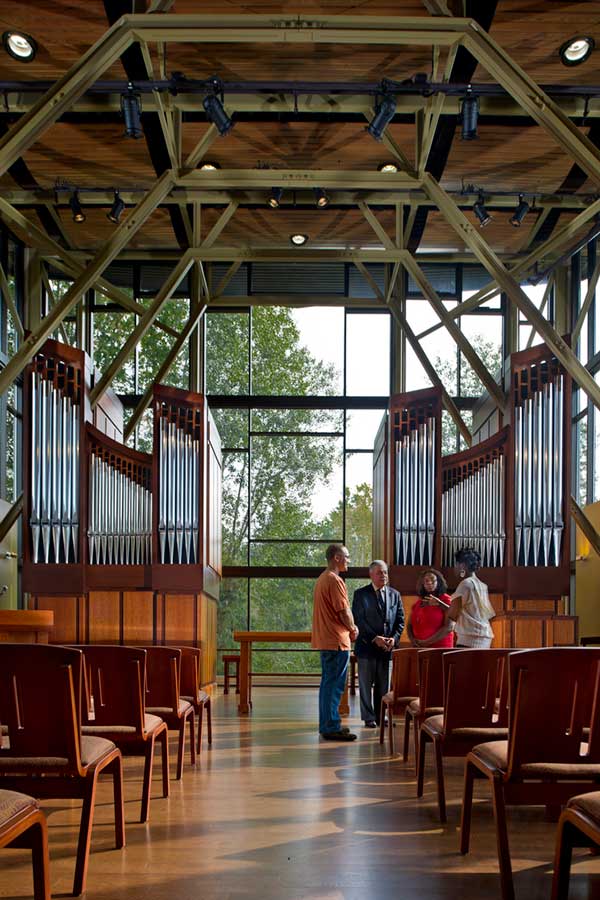 Our chapel is a place for interfaith worship and meditation. In addition to hosting religious services, the chapel is a site for weddings, induction ceremonies, lectures, poetry readings and small choral and musical performances. The chapel is an ideal spot on campus for reflection, contemplation and spiritual renewal, with its serene location near the stream and nestled among the trees – a space where students can find peace.
Chapel Hours:
Monday – Friday: 8:30 am – 5 pm
Saturdays & Sundays: 4 pm – 8 pm
Religious Services & Meditation / Events - contact Kyle Viola at (814) 362-5053 or kjv12@pitt.edu.
Content
Religious services on campus
Nondenominational Christian Service - Sundays at 6 PM
Christian ecumenical services are offered most Sunday evenings in the Harriett B. Wick Chapel during the Fall and Spring Terms. These services are sponsored by the Bradford Area Ministerium, representing churches in the local Bradford area, with Pitt-Bradford providing the space. The service lasts approximately 30 minutes, and is coordinated by The Reverend Stacey Fussell, Pastor at the Church of the Ascension (Episcopal). Clergy or lay leaders from Presbyterian, United Methodist, and other Protestant traditions involved in the Ministerium also participate and lead worship on a rotating basis. Interested students, faculty, staff, and the public are cordially invited to attend any of these services.
Harriett B. Wick Chapel Hours are Monday-Friday, 8:30 AM to 5 PM, and Saturday and Sunday, 4-8 PM. The chapel welcomes people of all faiths, or people of no faith, for quiet reflection, meditation, prayer, or just when one needs "a place apart".
If you have questions regarding interfaith services or meditation, please contact Angie Wolfe - Director, Leadership Development and Community Engagement. awolfe@pitt.edu; 814.362.7650
To donate to the chapel and office of community engagement, please contact the Office of Institutional Advancement at (814) 362-5091.
Content
Organ recitals are scheduled throughout the year featuring the Sarah B. Dorn Organ, which was built by Schantz Organ Company, Orrville, Ohio. For the latest information on arts programming in the chapel, please visit our website periodically.
Other campus events may include but are not limited to induction ceremonies, guest speakers and small musical performances. The chapel is also home to the Candlelight Concerts presented by the Marilyn Horne Museum and Exhibit Center. For the latest information on the series, go to the museum website.
For more information, or to check availability for your next event, please contact Kyle Viola at (814) 362-5053 or kjv12@pitt.edu..
Content
Our beautiful chapel is available to rent as a wedding venue to students, faculty, staff, alumni and members of the community. The chapel can accommodate 150 guests and includes a university representative to assist with your rehearsal and ceremony and a university organist to perform at your ceremony. Couples are responsible for securing an officiant, coordinating all music selections, decorations and photographers/videographers.
We recommend that you visit the chapel for a tour and meeting with a wedding hostess.
For more information, contact Kyle Viola at (814) 362-5053 or kjv12@pitt.edu.