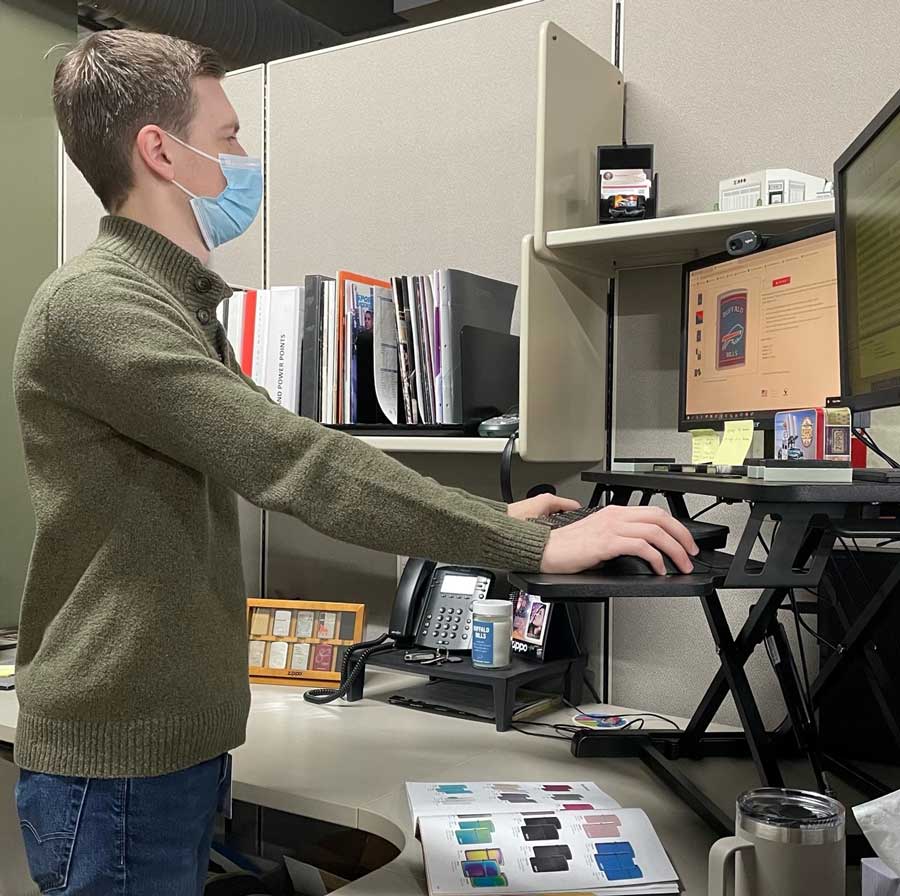 Scott Pattison '19, is a successful licensing coordinator at Zippo Manufacturing Co. in Bradford. He works daily with international artists and famous sports brands like the NFL and NHL, and he enjoys working with a great, supportive team. He could not imagine working anywhere else. But when Pattison began studying at Pitt-Bradford his goals were very different from where he is now.
Pattison's first major was secondary education, but after a semester found it wasn't the right fit for him. Dr. John Crawford, assistant professor of finance, inspired Pattison to switch his major to business management and concentrate on finance and marketing. The transition was challenging at first, but he was supported by the Pitt-Bradford TRIO Program, a federally funded program that supplies individualized academic, personal, financial and career coaching to students.
Pattison said the TRIO program helped him manage a full-time job at Tasta Pizza in Bradford and his schoolwork. The TRIO staff made sure Pattison's grades were as high as they could be and ensured that his classes were right for him. "I'm not sure I would have made it if it wasn't for the TRIO program," he said. "It was a nerve-wracking first couple semesters." Professors also supported Pattison, being open to assist him if he needed help academically. Even though it took him a while to achieve a balance between work and academics, Pattison found his stride at Pitt-Bradford.
He came to Pitt-Bradford with a group of his friends from Bradford Area High School. Knowing the area, they would go out for bowling, mini golf, and parties. As their friend group kept growing, he became increasingly involved in the campus community. This included becoming the president of Pitt-Bradford Student United Way, a club focused on getting Pitt-Bradford students to meet members of the community and local businesses. Pattison also took advantage of the networking opportunity Backpack to Briefcase, an annual program that brings alumni to campus to share career skills with students. It was these networking events that would eventually direct Pattison toward pursuing a job at Zippo. Although when he graduated, his mind was set on a different goal − becoming a financial advisor.
Moving to Pittsburgh, Pattison thought that working in finances could be the right career for him. During this time, he was an intern at RBC Wealth Management. This evolved to a full-time position with Janet Kirk, one of the city's top financial advisors. After six months, Pattison realized the job wasn't right for him, but Kirk taught him the value of professionalism and cooperation. He returned to Bradford, getting a job at PNC Bank. Like many others, Pattison was laid off during the COVID-19 pandemic. He felt like the blow sent him back to square one, questioning why he was laid off. It was this experience that taught Pattison how to build himself back up when faced with adversity. He found a determination to look forward instead of dwelling on losing his job at PNC. Having heard great things about Zippo, which had advertised job openings, he applied with hopes of having a new path to take.
Starting as a temporary worker at the Zippo/Case Visitor Center in 2020, Pattison then interviewed for three different positions. After interviewing first for marketing, then sales, he applied for a coordinator position within the licensing department at Zippo. Instantly, Pattison could tell the licensing position was right for him. "You'll find the right job if you keep bouncing around. Never lose the courage to keep looking," he said. Starting his career in licensing in January of 2021, Pattison has since gotten to collaborate with companies and people from all over the world. Licensing is the process through which companies grant permission to use an image or logo on a product.
His job has a lot of variety, including coordinating with an Italian artist for lighter designs, consulting with the NHL and flying to Las Vegas for conferences. Pattison is constantly keeping up with sports teams, noting changes like the Washington NFL team becoming the Washington Commanders. He then discusses new lighters with people in Zippo's design center, members of the production team, and employees on the factory floor. Every day is different, which could be hectic if it wasn't for the reliable team Pattison works with. "If you find the right group of people, they help you find the right goals and then exceed those goals," he said.
Pattison appreciates the preparation Pitt-Bradford provided him for his job at Zippo. Each class showed different skills that were applicable in the workforce, as well as built his knowledge of real-world situations. Along with that, he developed multitasking, organizational, and networking skills, all extremely important to be successful not just licensing, but any profession. With this continued success, Pattison has no plans to leave Zippo. His determination to find the right career has paid off, and he's committed to seeing how far this path can take him. 
-    Aaron Suranofsky '23