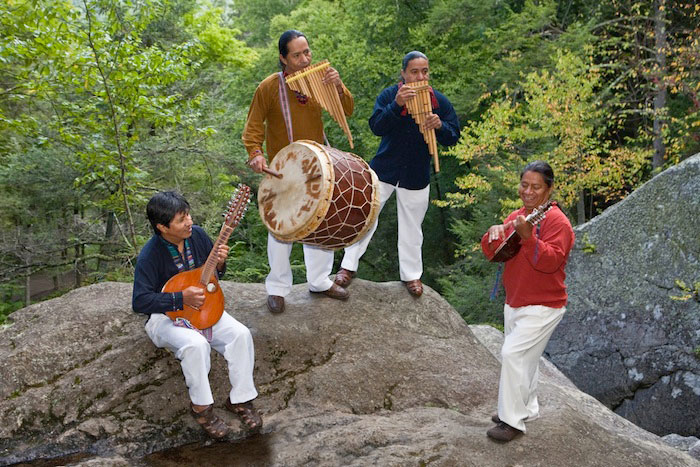 The University of Pittsburgh at Bradford will host the rich sounds of Andes Manta of the Andes at noon Sep. 29 in the Studio Theater in Blaisdell Hall.
The presentation by Pitt-Bradford Arts is free and open to the public.
Brothers Fernando, Luis, Jorge and Bolivar Lopez will perform the music of the Andes on more than 35 traditional instruments from the lyrical sound of the quena, or Andean Flute, to the haunting tones of the six-foot long panpipes.
The quena is described as the traditional flute of the Andes, made of cane or wood with six finger holes, one thumb hole, and open on both ends or the bottom is half-closed. The pan flute is a musical instrument based on the principle of the closed tube, consisting of multiple pipes of gradually increasing length. The pipes are generally made from bamboo, giant cane, or local reeds and have been popular as folk instruments. 
According to the Kennedy Center website, "Music is central to Andean communities, and serves as a metaphor for how successful community members work together. Musicians like Andes Manta who are selected to perform at festivals earn great prestige."
The Lopez brothers described learning music as children by listening and observing at village festivals, carnivals, and ceremonial gatherings, according to the website. Their songs are sung in both Spanish and indigenous Andean languages, with the musicians "yelling, shouting, or whistling encouragement to each other as they play" with the tempo and mood of the music changing abruptly.
For more information about Pitt-Bradford Arts programs and events, visit www.upb.pitt.edu/TheArts or contact the Bromeley Family Theater Box Office at 814-362-5113.