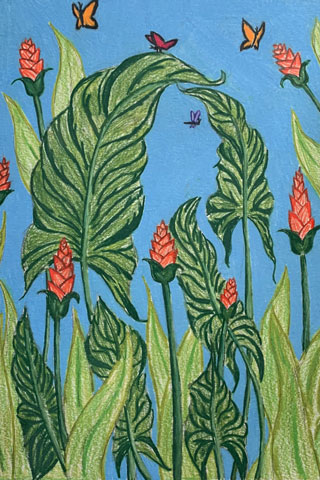 For the first time, the University of Pittsburgh at Bradford's award-winning literary magazine, Baily's Beads, will be published online.
The 2021 edition will be unveiled at an online event at 7 p.m. Feb. 3. The event will include the Baily's Beads tradition of an open mic. For login details, email Dr. Nancy McCabe, professor of writing and Baily's Beads adviser, at ngm4@pitt.edu.
Additionally, the event will celebrate the awarding of first place with special merit by the American Scholastic Press Association to Baily's Beads 2020 edition edited by 2020 graduate Taylor Tarahteeff, which focused on local and regional history, including historical photographs. The magazine also received an award for outstanding theme.
McCabe said the magazine staff had to make two major changes: how to create and edit the magazine when both students and faculty were working remotely and how to distribute the magazine.
"When we had to suddenly take our classes online last spring, we were a bit stymied when it came to trying to figure out how to produce the magazine," McCabe said. "Our editing process tends to involve a big room, lots of input, paper, pens, reference books, electronic devices and computers."
Over the summer, McCabe and the students developed a way to accomplish their goals using videoconferencing software and new procedures for editing.
Because the magazine is usually distributed by leaving copies on campus for the community to pick up and the staff realized that this academic year would look very different, it decided to create a website for the magazine that could easily be enjoyed by those working and studying remotely.
Hannah Wilton-Ruttan, a writing major from Bradford,  the magazine's editor-in-chief, said, "While we hope to be able to print future issues, we also plan to maintain a digital presence, featuring contests and regular issues with creative work from students, faculty, staff and community members as well as work between issues."
The 2021 issue features the poetry of Kellen Gaither, a junior psychology major from Cincinnati, whose work celebrates African American cultures and protests in the wake of racial injustice.
In addition to Wilton-Ruttan and Tarahteeff, staff members include chief designer Jess Jordan, an interdisciplinary arts major from St. Marys; assistant design editor Pat Tolerico, an interdisciplinary arts major from Honesdale; editorial assistants Kris Indermaur, an interdisciplinary arts major from Swiftwater, and Kurtis Chapman, a 2020 graduate; assistant editors Kameo Chambers, an interdisciplinary arts major from Philadelphia, Lindsay Daub, an English education major from Honesdale, and Amelia Rodriguez, a writing major from Elizabethtown.
Other staff members include, Vivian Abrams, a writing major from Philadelphia; Mercedes Arnold-Fox, an interdisciplinary arts major from Bridgeville; Courtney Clever, an interdisciplinary arts graduate from Warren; Grace Heckman, a psychology major from Wellsboro; Emily Miller, an English major from Bradford; Ambria Richardson, an English education major from Philadelphia; Jourdan Robbins, a writing major from Port Allegany; Noah Thomas-Sneed, a writing major and pre-medicine student from Philadelphia, and Kim Trainor, a criminal justice major from Cochranville.
Rick Minard, instructor of art, served as art adviser.
Following Wednesday evening's unveiling, the issue will be available online at bailysbeads.org.
--30--