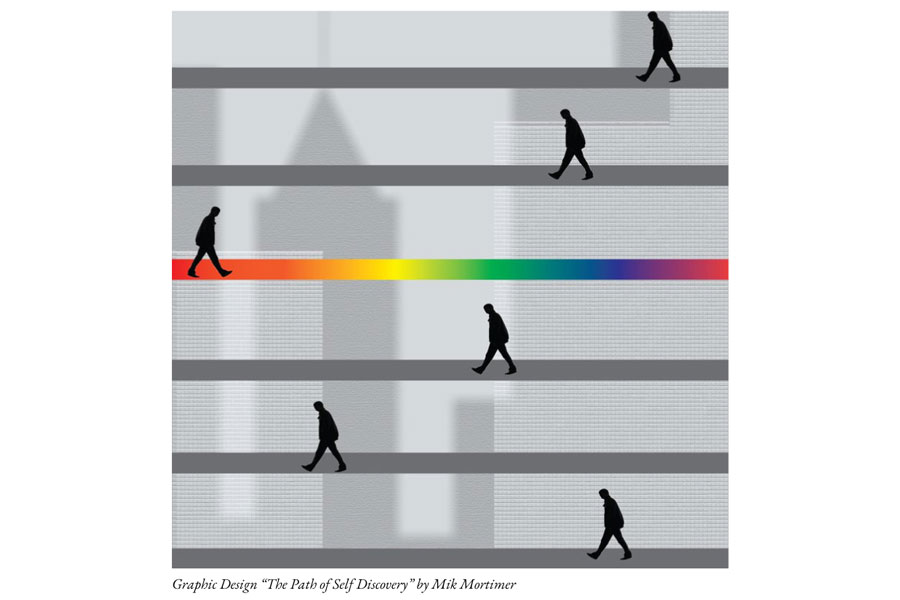 Baily's Beads, the University of Pittsburgh at Bradford's award-winning literary magazine, will unveil its 2023 issue, which is online, at a reception on Jan. 25.
The celebration will take place at 7:30 p.m. in the Mukaiyama University Room of the Frame-Westerberg Commons. It will feature an open mic for contributors or anyone in the community as well as refreshments.
The 2023 edition features stories, graphic narrative, creative nonfiction, poetry, photos and a three-dimensional art gallery in which visitors navigate to different areas of an imagined art museum. The 3D gallery can be seen on computers, mobile devices and in virtual reality on Meta Quest.
The new issue, edited by Aaron Suranofsky, a December 2022 writing graduate from Johnsonburg, and designed by Pat Tolerico, a December interdisciplinary arts graduate from Honesdale, has a theme of writing and identity and features a special section on nature and the environment.
"[Pitt-Bradford] is in a unique position to be home to students, faculty, and staff from all over the world while nestled in the remote woods of Pennsylvania," Suranofsky writes in an introduction. "The campus is inextricably linked to the beautiful natural scenery it's surrounded by, inspiring many of the creators on campus including me. For this reason, we incorporated the nature and environment feature."
In addition to celebrating the new 2023 issue at the celebration, the staff of the 2022 edition will be recognized for receiving first place with special merits from the American Scholastic Press Association, which also named Baily's Beads Most Outstanding College Magazine in its enrollment category, an award it shared with two other magazines nationally.
The 2022 edition was edited and designed by Kameo Chambers, an interdisciplinary arts major from Philadelphia. The cover art was created by Allison Larrabee, an interdisciplinary arts major from Hinsdale, N.Y.
Both the 2023 and the 2022 issues can be seen at 2023.bailysbeads.org. In addition to Suranofsky and Tolerico, the staff of the 2023 issue is Devin Moutrie, an interdisciplinary arts major from Miami, Fla., assistant editor; Shanté Forston, a psychology major from Philadelphia, editorial assistant; Stephanie Eaton, an interdisciplinary arts major from Bradford, assistant designer and art editor; Larrabee, Sara Micholas, an English and writing major from Cheektowaga, N.Y., and Natalie Mix, an interdisciplinary arts major from Bradford, promotion team; Chambers and Izynae Moore-Grimes, a writing major from Philadelphia, former editors/consultants; Ambria Richardson, an English major from Philadelphia; Gabriel Lyra, a writing major from Rio De Janeiro; Jordan Knight, an interdisciplinary major from Bradford;
Kayla Challingsworth, an English education 7-12 major from Kersey; Peyton Cook, an English education 7-12 major from Scranton; and Reese Brown, former student, staff.
Advisors were Karen Bell, instructor of writing, and Dr. Nancy McCabe, professor of writing. Art advisor was Sunyoung Lee, assistant professor of art.
"Since I was on sabbatical last spring, Karen Bell took over as the primary advisor and, with some indispensable help from our art advisor, Sunyoung Lee, led a dedicated and creative staff to do some fresh and innovative work," McCabe said. "We're proud of receiving another award for the most outstanding student magazine in the country for the 2022 issue, and I'm confident that the 2023 issue is going to do well in judging next year thanks to the hard work of this staff."
The magazine is currently accepting submissions for its 2024 issue. For more information, visit 2023.bailysbeads.org/submissions.
--30--