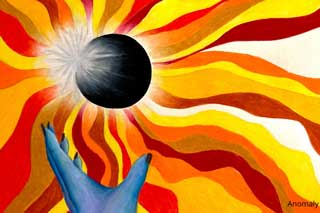 Baily's Beads, the University of Pittsburgh at Bradford's award-winning literary magazine, returns to an in-person unveiling and celebration this year, but the new issue remains online.
The celebration will take place at 7:30 p.m. Wednesday in the Mukaiyama University Room of the Frame-Westerberg Commons. The event will feature an open mic for contributors or anyone in the community as well as refreshments.
In 2021, the student staff produced its first online publication because of the coronavirus pandemic. That issue has earned awards from the American Scholastic Press Association, including Most Outstanding University Magazine for the seventh time since 2010 and First Place with Special Merit. Editors of the 2021 digital issue will accept the press association awards during the celebration. Editor-in-chief of the honored issue was Hannah Wilton-Ruttan '21.
The 2022 issue is edited and designed by Kameo Chambers, an interdisciplinary arts major from Philadelphia, who explains in her editor's introduction that the issue's theme is "Anomaly." The cover art was created by Allison Larrabee, an interdisciplinary arts major from Hinsdale, N.Y.
"The anomalies of mask mandates, social distancing, online courses and COVID precautions greatly impacted our community just as similar restrictions impacted the larger world," Chambers wrote.
The issue will feature a new 3D art gallery and a special feature on writing and healing that grew out of a class taught by Dr. Nancy McCabe, professor of writing and adviser for the magazine.
Inclusion is another emphasis in the 2022 issue, which includes a creative nonfiction piece by Damian Challingsworth, a social studies education 7-12 major from Ridgway, that explains what it's like to experience the world from a neurodivergent perspective.
In addition to Chambers, staff members of the 2022 issue are assistant editors Rachel Close, a December graduate from Bradford; Izynae Moore-Grimes, a writing major from Philadelphia; Nadae Parrish, a mechanical engineering major from Rochester, N.Y.; Amelia Rodriguez, a 2021 writing graduate from Elizabethtown; and Pat Tolerico, an interdisciplinary arts major from Honesdale; editorial assistants Jourdan Robbins, a writing major from Port Allegany;  and Kris Indermaur, an interdisciplinary arts major from Kersey; assistant designer/art editor Stephanie Eaton, an art therapy and radiological science student from Bradford; promotion directors Branden Boateng, a business management student from East Stroudsburg; and Devin Moultrie, a former interdisciplinary arts student from Miami, Fla.; and staff members Gianna Mangoni, a criminal justice and forensic science major from Philadelphia; and Jalen Perkins, an economics and history-political science major from Scranton.
Art adviser was J.D. McGuire, visiting professor of art. Following Wednesday evening's unveiling, the issue will be available online at bailysbeads.org. For those unable to attend, the event can be accessed online at https://pitt.zoom.us/j/92892266226.
With the flexibility of an online publishing platform, the staff has begun working on a special feature on the subject of identity.
Staff members described the project this way: "Identity is a multimedia special feature targeted towards a variety of backgrounds to highlight individuality and community. Examples of how identity can be interpreted are culture, ethnicity, religion, gender, sexuality, disability, race, nationality, and socioeconomic status. Playing significant roles in how we experience the world, this special feature will be for those in our community to convey their key facets of identity and as a result, allow our readers to experience the world through their lenses by their work."
The magazine is accepting photography, paintings, drawings, fiction, poetry, and creative nonfiction as well as performance poetry accompanied by recordings of the performance, videos and recordings of original music. The deadline to submit to the Identity project is March 15.
For more information on submitting to Identity or the 2023 edition of Baily's Beads, visit 2022.bailysbeads.org/submissions.
--30--