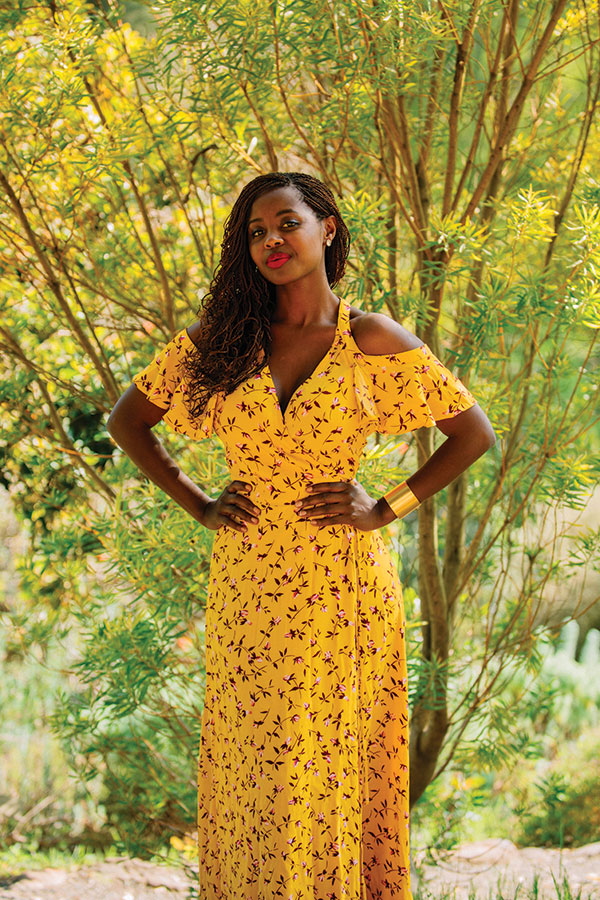 The University of Pittsburgh at Bradford will hold its first campus and community reading project since 2017, when Tori Murden McClure visited and talked about her solo journey rowing across the Atlantic Ocean.
The 2022 selection is "The Girl Who Smiled Beads" by Joyful Clemantine Wamariya and Elizabeth Weil, a story of Wamariya's childhood flight from Rwanda during the country's civil war and genocide and being a refugee in seven African countries before obtaining asylum in the United States.
"This book is a fascinating window into the experience of a young woman from another culture and country, offering a valuable perspective that will open up the world further for many of our students," said Dr. Nancy McCabe, professor of writing.   
"Wamariya enables us to see ourselves through new eyes as she navigates a new culture in the U.S. – for instance, in small details like how, after 9/11, she was surprised that the primary reaction was patriotism. Her own experience had told her that the only reasonable response to such an event was to pack your bags and flee."
Dr. Jonathan Chitiyo, associate professor of education and director of the first-year seminar, said, "This book also looks into the struggles and challenges that individuals who are refugees face when they relocate. In addition to scars created by the war they escaped, they have to navigate through a system that at times may be harsh towards them."
Pitt-Bradford has joined together with the Bradford Area Public Library and area book groups and service clubs to read and discuss the book in a series of free, public events culminating in a visit from Wamariya at 7:30 p.m. Oct. 26 in the Bromeley Family Theater of Blaisdell Hall. 
Local organizations reading the book along with first-year students at Pitt-Bradford include the American Association of University Women, Bradford Area Public Library, Friends of Hanley Library, Kiwanis Club of Bradford, Olean (N.Y.) Public Library, Women's Literary Club of Bradford and the Zonta Club of Bradford. The Bradford YWCA is supporting the project as well.
At 10:30 a.m. Sept. 17 in the Bradford Area Public Library conference room with the library's "Open Book Club"; and at 6 p.m. Sept. 28 at the Bradford Area Public Library or via Zoom with the library's "BYO Book Club." Contact the library for Zoom instructions.
In addition to small group discussions, a community-wide book discussion with a panel of representatives from the each of the groups will be held at 10 a.m. Oct. 1 at the Bradford Area Public Library.
At 7 p.m. Oct. 12 in the Mukaiyama University Room of the Frame-Westerberg Commons, the university will hold a panel discussion about some of the topics included in the memoir, including refugees.
Finally, Wamariya's visit, sponsored by the Pitt-Bradford first-year seminar, creative and professional writing program and Spectrum Arts Series, will take place on Oct. 26.
The book is available online at https://bookshop.org/shop/onthesidebooks or at The Panther Shop on campus.
--30--